While you were away: Top 10 stories to bring you up to date
Updated on Mar 29, 2017 07:45 AM IST
Protests in Noida following the alleged tearing of Indian flag by a Chinese national, Centre's stance on appointment of Lokpal to Steve Smith's offer to Indian cricket team, 10 top stories to keep you up to date.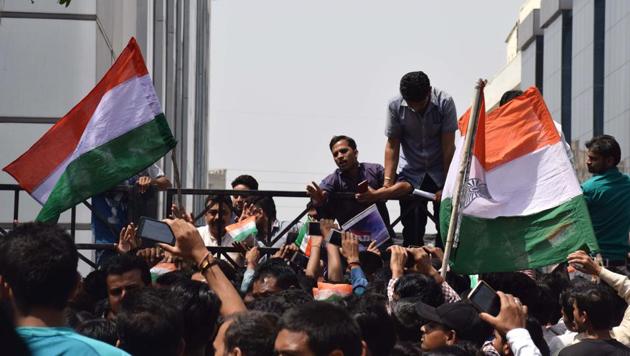 Hindustan Times |
HT Correspondent
From protests in Noida following the alleged tearing of Indian flag by a Chinese national and Centre's stance on appointment of Lokpal to Steve Smith's offer to Indian cricket team, here are 10 top stories to keep you up to date:
Three civilians killed in J-K as forces fire at protesters during gunfight with militants
Three civilians were killed when security forces opened fire at a crowd of protestors allegedly throwing stones at troops engaged in a counter-insurgency raid in central Kashmir's Budgam district on Tuesday. The operation ended with the killing of an armed militant, whom the people of Chadoora were allegedly trying to help escape after soldiers cornered him. The firing wounded more than a dozen people. Read the full story here.
African students in Greater Noida stay away from public places, colleges
Fear and anger gripped the African student community in Greater Noida on Tuesday despite increased police presence, the Centre's promise of swift action and more arrests in the violence against Nigerians a day earlier. The African Association of Students of India (AASI) has asked students in the township to stay away from colleges till they were provided police security. Read the full story here.
Protests in Noida after Chinese national 'tears' Indian flag, throws it in dustbin
The Noida office of a mobile phone company witnessed high drama on Tuesday after an employee of the company, a Chinese national, allegedly tore and threw an Indian flag in a dustbin. The incident, reported from the Sector 63 Noida office of mobile phone company Oppo, triggered protests by hundreds of employees, prompting the police to step in. The Phase-3 police registered a case against the Chinese national who works as a production manager in the company, on a complaint filed by three employees later. A probe has been launched. Read the full story here.
Can't appoint lokpal till law changes, government tells Supreme Court
The government told the Supreme Court on Tuesday it was not possible to appoint a lokpal till Parliament cleared the changes proposed to the law governing the appointment of the anti-corruption watchdog. Attorney general Mukul Rohatgi said the amendments to the definition of the leader of opposition in the lokpal act were pending with Parliament. "Currently there is a problem with the law due to which selection of lokpal cannot happen.In the absence of a leader of opposition, the appointment cannot be done," the country's top law officer told the court. Read the full story here.
MS Dhoni's personal info from Aadhaar Card form leaked, wife Sakshi complains
The CSC e-governance Services India Ltd. tweeted -- through its official twitter handle @CSCeGov -- a picture in which MS Dhoni's fingerprints are getting scanned into the system. They went a step forward and tweeted a screenshot of the Jharkhand cricketer's Aadhaar card application form which Dhoni's wife Sakshi complained about, tweeting to the Union Law & Justice and Information Technology minister, Ravi Shankar Prasad. Read the full story here.
Getting threats for criticising BJP, PM Modi 'routine affair': Ramachandra Guha
Writer-historian Ramachandra Guha tweeted on Tuesday that he had been getting "identical threat mails" warning him not to be critical of Prime Minister Narendra Modi and the BJP. Guha, 58, claimed that the mails also warned him against criticising BJP president Amit Shah. Read the full story here.
Invisibility on Twitter is giving you the power to misbehave: Swara Bhaskar
Actor Swara Bhaskar says it is the anonymity of users on social media that is responsible for internet trolling that celebrities have face more often than not. Swara says Twitter has just become another street for her, where people can misbehave or pass comments by using the default egg profile. "I think the world of Twitter and the social media trolling is a very stark example of how our society functions. For me, it has become a place where you can pass comments on girls," Swara said. Read the full story here.
ULFA-I warns Dalai Lama against making anti-China comments during Assam visit
The banned United Liberation Front of Asom-Independent (ULFA-I) has asked the Dalai Lama to refrain from making anti-China comments during his visit to Assam next month. "If you want to visit Assam, we have a special condition. You will not make any personal or public comments against China from Assam's soil," outfit chairman Abhijeet Asom told the exiled Tibetan leader in an open letter. Read the full story here.
Trump moves to dismantle Obama's climate legacy with executive order
Donald Trump launched an all-out assault on Barack Obama's climate change legacy on Tuesday with a sweeping executive order that undermines America's commitment to the Paris agreement. Watched by coal miners at a ceremony at the Environmental Protection Agency in Washington, the US president signed an order to trigger a review of the clean power plan, Obama's flagship policy to curb carbon emissions, and rescind a moratorium on the sale of coal mining leases on federal lands. Read the full story here.
Steve Smith offers beer to Ajinkya Rahane, Indian team
Australian cricket team captain Steve Smith reached out to his Indian Premier League (IPL) teammate Ajinkya Rahane and the Indian cricket team, offering a round of beer after the end of the bitterly-fought Test series which the hosts won 2-1. Smith, who apologised for letting emotions get the better of him throughout the series, also had a brief chat with Rahane after the game. Read the full story here.
Personalise your news feed. Follow trending topics