Yogi Adityanath govt waives Rs 36,359-crore loan for UP farmers
The UP government led by Yogi Adityanath held its first cabinet meeting on Tuesday and announced a slew of initiatives.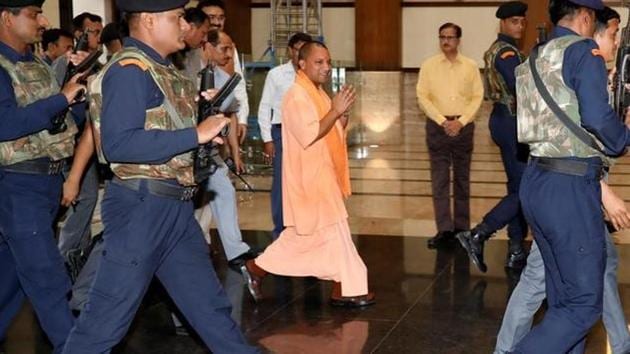 Updated on Apr 11, 2017 04:21 PM IST
The BJP-led government in Uttar Pradesh decided on Tuesday to waive off crop loans of up to Rs 1 lakh of small and marginal farmers in the state, a relief the party promised before the February-March assembly elections.
About 21 million farmers will benefit from this decision of chief minister Yogi Adityanath's cabinet during its first sitting. About 92.5% of the state's farmers fall in the small and marginal categories.
Besides, the cabinet also decided to write off Rs 5,630 crore in non-performing assets (NPAs) of 700,000 farmers.
The twin waivers — among nine decisions the cabinet took — would together cost the government Rs 36,359 crore.
The cash-strapped government would float farmer relief bonds, called Kisan Rahat Bond, to generated funds to implement the loan waiver.
The BJP had promised loan waiver to marginal farmers in its poll manifesto. Prime Minister Narendra Modi and chief minister Adityanath had said the decision would be taken at the first meeting of the state cabinet.
State minister Siddharth Nath Singh told reporters the decision was in accordance with Prime Minister Modi's announcement to provide relief to farmers.
It's a coincidence that the cabinet took nine decisions on the occasion of Ram Navami, which marks the end of the nine-day Navratra festival, he said.
Bundelkhand Kisan Union national president FK Dharma welcomed the loan weaver and said this was the first step towards easing out a major crisis faced by farmers.
But Samajwadi Party president and former chief minister Akhilesh Yadav was not impressed.
A promise of complete loan waiver was made to the farmers, he said. "Millions of farmers were feeling cheated with the ceiling of Rs 1 lakh."
Earlier in the day, the Congress hoped the BJP government will waive off loans of farmers to the tune of Rs 92,000 crore.
Party leader Randeep Singh Surjewala said: "The BJP has waived off loans of Rs 140,000 crore of big industrial houses and industrialists. Will it waive off loans of Rs 92,000 crore of UP farmers?"
Other than the loan relief, the government will buy 80 lakh metric tonnes of wheat from the farmers with the minimum sale price (MSP) of Rs 1,625 a quintal. It will give an additional Rs 10 a quintal to farmers cover transport and loading expenses.
A three-member committee of ministers will find ways to ensure potato growers got remunerative prices for their produce.
The government also decided to go ahead with its crackdown on the state's illegal slaughterhouses, another poll promise of the BJP that won a landslide victory in the assembly elections. The Yogi government took charge a fortnight ago.
The action against unauthorised abattoirs would strictly follow Supreme Court and National Green Tribunal directives and guidelines.
The cabinet blamed rival political parties of spreading canard against the government's move to set up "anti-Romeo" police squads to check growing instances of harassment of women in public places.
Allegations mounted that Uttar Pradesh has been turned into a nanny state by the BJP government, as reports emerged that these anti-Romeo teams were harassing men arbitrarily — even brothers dropping sisters at exam halls or men giving a lift to their woman colleagues.
The cabinet decided that policemen wouldn't be spared if complaints of harassment were received.
The government will form two groups of ministers (GoM) — each headed by deputy chief ministers Dinesh Sharma and Keshav Prasad Maurya.
The Sharma-led group will visit Gujarat, Madhya Pradesh and other states to study and recommend a new industrial policy for Uttar Pradesh.
The second GoM under Maurya would submit a report in a week on measures to check illegal mining in the state.
Close Story