Kuldeep Yadav should be given time to settle down: Bishan Singh Bedi
Published on Sep 24, 2017 06:44 PM IST
Kuldeep Yadav's hat-trick against Australian cricket team catapulted the Chinaman bowler into fame, but he should be assessed after longer spells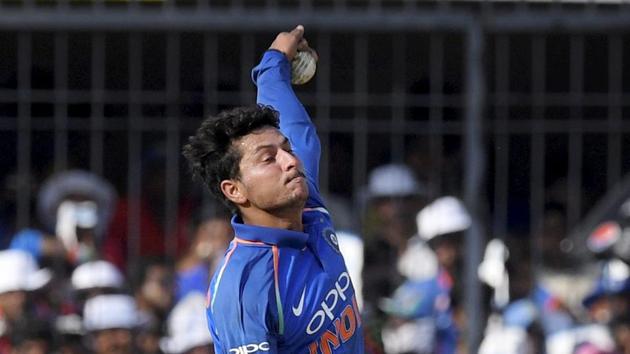 Bishan Singh Bedi, former Indian cricket team captain, is impressed with chinaman bowler Kuldeep Yadav's recent performances but would like to check out his control and variation over long spells in Test match cricket.
"Look, it's not easy to figure out whether Kuldeep has control watching him bowl four overs in T20 or 10 overs in ODIs. Let him bowl 30-40 overs in an innings, we can then figure. In India, we jump to conclusion very easily just after one hat-trick. So let's not rush. Give him time to settle down and for us to assess him logically," Bedi said.
READ | How MS Dhoni helped Kuldeep Yadav bag maiden ODI cricket hat-trick
Sobers - the best Chinaman
The former India captain, who has more than 260 Test wickets rated Gary Sobers as the best chinaman bowler to have ever played the game.
"You know who was the best exponent of chinaman bowling. Sir Garfield Sobers. He used to bowl very effective left-arm wrist spin. He used to bowl with deep midwicket, deep square leg and deep mid-on. It was all about control. Then eventually, he started bowling orthodox," Bedi said.
For him consistency comes with planning and strategy and not just by taking wickets irrespective of the quality of the delivery.
READ | How mysterious is Kuldeep Yadav? India's hat-trick man has an answer
"Whatever conditions you play, the bowler has to be consistent. We hear commentators use this term 'bowled in right areas'. My question is what exactly is right area? Sometimes bowlers get wickets bowling long hops and full tosses. Are those right areas? Right areas exist in between
your ears, where you prepare strategy!"
'Rare and tough art'
Bedi hoped that Kuldeep, who has only played two Test matches so far, survives the rigours of international cricket for long time to come.
READ | Kuldeep Yadav takes hat-trick in India vs Australia ODI, 3rd Indian to do so
"Let's hope for the best. It's very rare and tough art. Right-arm leg spin is tough and left-arm leg break (chinaman) is even tougher. He (Kuldeep) is still very new to international cricket. I hope he learns the tricks of the trade. But but I would wish that while mastering the trade, he doesn't forget the tricks," he said.
He agreed that both Kuldeep and Yuzvendra Chahal have been able to outwit the Aussie batsmen in first two games. "Both the boys have bamboozled the Australian batsmen (in first two games)."
Australia's lean patch
But Bedi is unable to understand how Australia surrendered meekly in first two games.
"I don't know as I am struggling to press a button as to why Australia is not firing. There is a saying that when Kangaroo is hurt, it can kill you with its tail but it's not happening," he smiled and said.
Are these two bowlers better than Ravichandran Ashwin and Ravindra Jadeja, Bedi answered: "They are exciting options but then India are playing second string team and yet beating the Australians comfortably."
He then presented his perspective on the issue. "The reason we are winning is because we are playing well but the flip side is that the gulf between India and other teams have widened. So we need to be pragmatic. Our team has not been stretched in the last one year. Only match when we were stretched was the Champions Trophy final against Pakistan, which we lost," Bedi said.
Asked if it's a global phenomenon that international teams have become poor travellers, he said: "You can say that. Every team is happy to play at home. Even Australia would be waiting for India to come there (in 2018). Today teams are happier playing at home is a logical statement."
On a different note, Bedi who has been a vocal critic of the defiant BCCI officials said: "They understand the end is near and they won't be able to hold on for long."