APJ Abdul Kalam congratulated cop shortly before he collapsed
Updated on Jul 28, 2015 06:07 PM IST
Former President APJ Abdul Kalam congratulated a policeman for remaining vigilant through the 100-km drive from Guwahati to Shillong shortly before he collapsed at the IIM in the Megahalaya capital and died.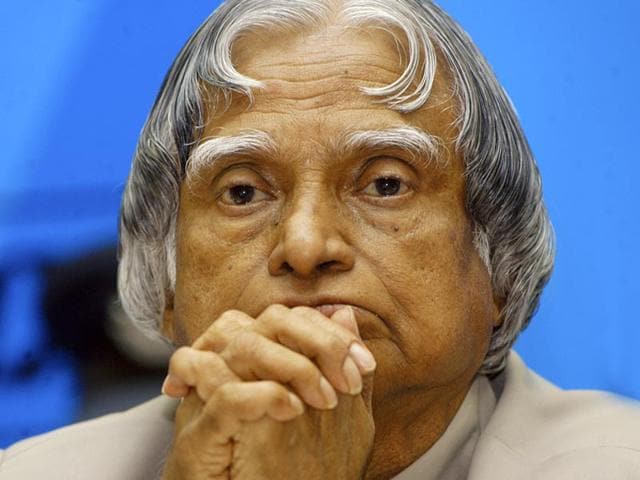 APJ Abdul Kalam lauded a policeman who was part of his escort for the 100-km drive from Guwahati to Shillong for manning a gun in a standing position throughout the journey shortly before the former President collapsed in the Megahalaya capital and died.

"As soon as he arrived at IIM-Shillong, our former President summoned one of our men who was standing throughout the 100-km drive in the pilot vehicle from the airport in Guwahati to Shillong," said M Kharkrang, the superintendent of police of the East Khasi Hills.

"The constable got scared but broke into a smile when the great man congratulated him for being alert throughout the road trip," Kharkrang told Hindustan Times.

"Kalam bothered to acknowledge the work of a constable who was there to ensure his security. This was truly a great man," he added.
According to a Facebook post by Kalam's aide Srijan Pal Singh, the former President became worried about the policeman about an hour into the journey. "Why is he standing? He will get tired. This is like punishment. Can you ask a wireless message to (be) given that he may sit?" Kalam was quoted as saying by Singh.

Despite Singh explaining that the policeman's behaviour could be part of the security protocol, Kalam insisted a message should be sent to him to sit. When all efforts to signal to the policeman failed, Kalam said: "I want to meet him and thank him."

When Kalam finally came face-to-face with the policeman at IIM-Shillong, the former President shook his hand and said, "Thank you buddy."

Kalam added: "Are you tired? Would you like something to eat? I am sorry you had to stand so long because of me."

Taken aback, the policeman, whose identity could not immediately be ascertained, replied, "Sir, aapke liye to 6 ghante bhi khade rahenge (Sir, for you we can stand even for six hours)."

Kalam arrived at the Indian Institute of Management guesthouse in Shillong at 5.40pm. He was delivering a lecture on "Creating a live-able planet" when he collapsed and was rushed to the nearby Bethany Hospital.

He was declared dead at 7.45pm by the hospital's medical board.

The Meghalaya government declared a state holiday on Tuesday as as a mark of respect to Kalam.
Read
'Missile Man': Ex-president APJ Abdul Kalam passes away
Legend of APJ Abdul Kalam: Great scientist, extraordinary human being
In pics: Remembering India's 'Missile Man' Dr APJ Abdul Kalam
Close Story
Personalise your news feed. Follow trending topics