Art of Living? Seeking joy on the banks of a river we've killed
Though well intentioned, organisers of the World Culture Festival remain in denial about the ecological impact of the event and refuse to acknowledge the stink it has created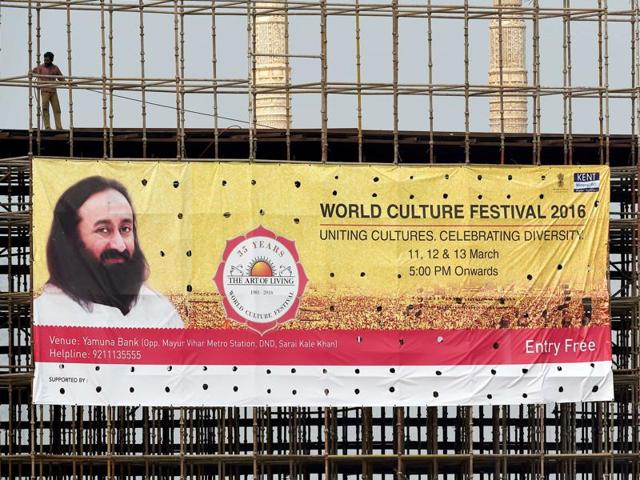 Updated on Mar 08, 2016 02:11 PM IST
All successful movements for environment conservation need a healthy dose of zeal and commitment often associated with religion. And all faiths find resonance in the undeniable bond humans forge with nature, which nourishes life across species.
So tenacious is faith's link with the environment that government-funded initiatives to clean rivers routinely draw flak because they smack of religious fervour. The Rs 20,000-crore Namami Gange programme — launched within weeks of the NDA coming to power — was criticised by many for its single-minded focus on a river holy to the Hindus, irrespective of the fact that the Ganga basin covers a little more than a quarter of the country's landmass and supports almost 43% of its population.
Rivers are living and breathing ecosystems struggling to survive the ecological assault of sewage and industrial effluents, human waste, hydropower, irrigation and the drinking water needs of India's over one-billion population. And then we add insult to injury by encroaching upon the floodplains. The World Culture Festival on the west bank of the Yamuna is an example of just that. We pull out visible plastic and garbage but add effluents and other soluble muck that not only poisons life in the river but also pollutes its floodplains before seeping down to the water table.
We seek to joyously celebrate life on the banks of a river and its ecosystem, whose destruction our festivities will only serve to hasten.
Read: Will NGT allow Sri Sri's mega Yamuna event? 10 things you must know
And that's what a gathering of 3.5 million people at the Art of Living festival is likely to do to the Yamuna's fragile ecosystem, which is being assaulted by temporary structures such as a stage spread over seven acres on the river's west bank and several pontoon bridges.
President Pranab Mukherjee refused to attend the three-day event that begins on Friday, even as the National Green Tribunal (NGT) reviews a petition seeking to ban it. A review committee appointed by the NGT said it was too late to ban the festival, and instead proposed a Rs 120-crore fine that would go into fixing the environmental damage caused by the encroachment.
Read: Art of Living event on Yamuna gets thumbs up from Delhi Jal Board chief
Riverfronts the world over have been developed to accommodate visitors and worshippers alike, but these need civic and environmental planning to ensure that they don't leave behind any carbon footprints. At the Kumbh in Allahabad, for example, the government diverts untreated sewage from the open drain to the treatment plant for ensuring minimal pollution.
Though well intentioned, organisers of the World Culture Festival remain in denial about the ecological impact of the event and refuse to acknowledge the stink it has created.
They need to accept that universal love and peace have to be driven by empathy for the environment because that is what makes it truly selfless.
Close Story