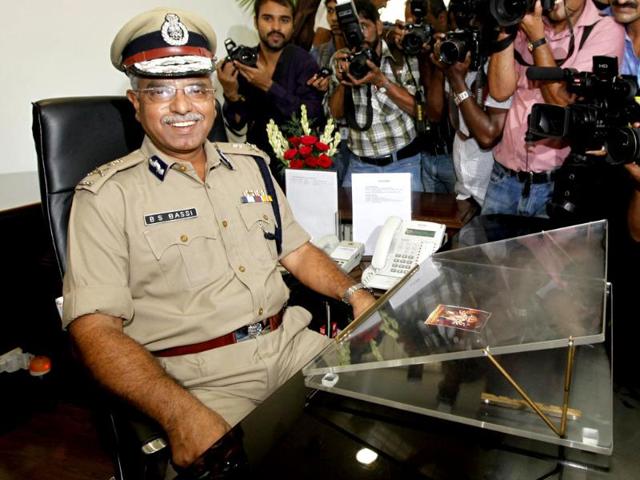 Don't care about stats, I have to register cases: Bhim Sain Bassi
Delhi's new police commissioner Bhim Sain Bassi plans to use the social media to curb the biker menace, doesn't fear rising crime figures and seeks to make the streets safer for women and commuters at the same time. He spoke to Jatin Anand after he took over the office.
Hindustan Times | By Jatin Anand
, New Delhi
UPDATED ON AUG 01, 2013 01:54 AM IST
A Delhi boy who grew up at his father's government quarters in the city's centre before getting entry to the prestigious Indian Police Service at the age of 21 years, Bhim Sain Bassi, now 57, plans to use the social media to curb the biker menace, doesn't fear rising crime figures and seeks to make the streets safer for women and commuters at the same time.
Excerpts from the interview:
You take over at a time when there is a palpable lack of trust between your force and the people it is supposed to protect. Just two days ago, a young biker was shot dead because he was performing stunts in New Delhi. The December 16 gang rape and the handling of protests that followed dented the police's image. What will you do to improve the situation?
I have full sympathy for family members of the man who was killed last week. It is unfortunate. Just because some bikers perform stunts on the street does not make them sinners. They are, however, transgressors of the law and must be dealt with according to its stipulated provisions. We now have a strategy to use social media and peer-group pressure to counter the menace. We will talk to community leaders to rein in youngsters during religious festivals and events.
Fines will be issued and the law will be allowed to take its own course. In any case, my most immediate priority is a safe Delhi where police personnel are committed to their jobs. The safety of women and children and controlling crime perpetrated in the by-lanes of the capital will be my priority. I want a Delhi where women feel safe everywhere and all the time.
But how will women feel safe if their complaints are not registered on time or not investigated properly?
I agree that there is an attitudinal problem in the force when it comes to registering cases, but I will change it.
People coming to police stations should feel relieved while leaving. There are some cases that are open-and-shut — like those of snatching or of crime against women and children. These are cognisable and, as per instructions from the state and under the provisions of the law of the land, need to be registered as soon as they are reported.
I don't care about numbers. I have to register cases as soon as they are reported and get them investigated properly instead of letting graphs and the numbers bog me down.
A voluminous charge sheet on the spot-fixing scandal was filed under the guidance of your predecessor on Tuesday. It names Dawood Ibrahim Kaskar and his aide Chhota Shakeel as the main accused — the same men who have been eluding Indian agencies for decades.
I have just taken over and, since we work on a need-to-know basis, I am yet to be told about the precise nature of the case and its aspects. Seeking an update on it will be one of the first things that I do.
And, as far as the accused named in the charge sheet are concerned, we will do all that the law of the land allows us to do to bring the case to its logical conclusion.
There are many community policing initiatives instituted by your predecessor, many of which have worked on the ground and others that haven't.
These will be resurrected just the like the 'neighbourhood watch' programme that was first instituted in the 1980s. It is a big city and managing its security is difficult. But I have seen how effective this scheme is — the most recent example being during my tenure in Chandigarh.
Another project close to my heart is 'be safe', which I instituted when I was managing traffic two years ago and dealt with instilling discipline among commercial vehicles in high-speed corridors.
Close