Handwara girl records statement, says not molested by soldier
Apr 18, 2016 10:37 AM IST
A girl whose alleged molestation in Jammu and Kashmir triggered a wave of protests that killed at least five people in the militancy-hit state told the chief judicial magistrate of Handwara that two boys assaulted her on way back from school, police said.
A schoolgirl in Jammu and Kashmir's Handwara told a magistrate that she was not molested by an army soldier, an allegation that led to five deaths as security forces fired at protesters during widespread unrest since Tuesday.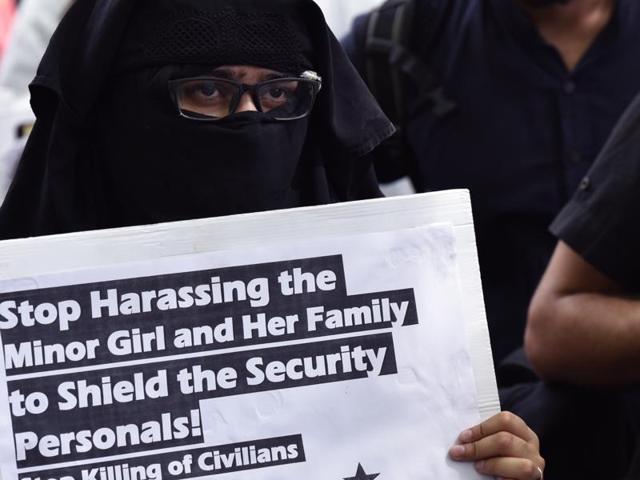 Police presented the girl before a chief judicial magistrate on Saturday night after a Jammu and Kashmir high court order on a petition filed by her mother, who alleged the 16-year-old made a video statement under duress to clear the army's name.
She told the magistrate that two boys assaulted her on the way from school in Handwara town of Kupwara district on April 12, police said on Sunday.
The girl reiterated what she said in the video — that she was not molested by a soldier.
"In her statement before the magistrate, she said she entered a public lavatory near the main chowk in Handwara on her way home from school with her friend," a police spokesman said. "When she came out, she was assaulted and dragged by two boys and her bag was snatched. One of the boys was in school uniform."
Her admission before the magistrate could be a vital evidence in court.
Violent protests engulfed Handwara on Tuesday and spread throughout the Kashmir Valley following word that a soldier had molested a schoolgirl. The protesters even tried to torch an army bunker.
Forces fired in retaliation, killing three people in Handwara, about 85km from Srinagar. As tension flared up, clashes broke out in other parts of the state, killing two more.
A video authenticated by an army spokesperson after Tuesday's clashes in the militancy-hit state showed the girl in school uniform blaming youngsters for the trouble. The girl said she knew one of them and accused him of instigating the mob.
On Saturday, the girl's mother approached the high court and alleged that her daughter was being held in "unlawful confinement". She said her daughter's video statement was made under police pressure as no adult guardian was accompanying her.
Chief minister Mehoboba Mufti, heading a coalition government with the BJP, visited Handwara on Saturday and met relatives of those killed in the shooting. She assured them justice.
Kashmir limped to normality on Sunday and separatist groups did not call fresh protests.
Public transport was back on the roads. Shops, fuel stations and other business establishments opened after four days in the capital city and across some other districts, an official said.
Government offices and educational institutions remained shut as it was a Sunday. Train services between Baramulla and Qazigund resumed after remaining suspended since Wednesday.
But authorities were yet to take a decision on resuming mobile internet services in the Valley.
(With agency inputs)
Read: Two men killed after soldiers fire at protesters in Kashmir's Handwara