In Shatrughan Sinha's biography, he is 'Anything but Khamosh'
Jan 06, 2016 07:47 AM IST
Someone who has shown a knack for firing away googlies to keep India's political class in a thrall, actor-politician Shatrughan Singh is once again set to deliver a prodigiously spinning 'wrong one'.
Someone who has shown a knack for firing away googlies to keep India's political class in a thrall, actor-politician Shatrughan Singh is once again set to deliver a prodigiously spinning 'wrong one'.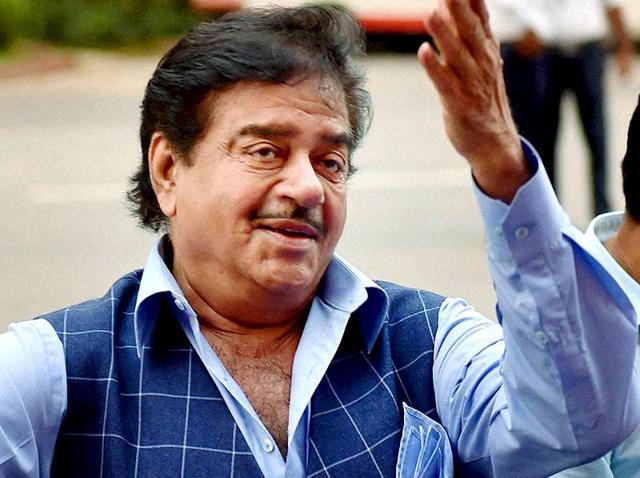 Aptly titled Anything But Khamosh, Sinha's biography will be released by BJP veteran LK Advani, widely acknowledged as his political 'mentor', at New Delhi's Claridges Hotel on January 6. Sinha's actor daughter Sonakshi will be among those attending the function.
As a testimony to Sinha's bridges that extend to beyond his own party, Congress MP Shashi Tharoor has written a foreword to the biography that is sufficiently 'candid' to stir another controversy or two.
"It is one of the most honest biographies you will get to see," author Bharthi S Pradhan, who has written the book based on personal interviews spread over seven years beginning November 2008, says.
"And not all of it is flattering to Mr Shatrughan Sinha," she adds about the Patna Saheb BJP MP, whose tweets in the run-up to the 2015 Bihar assembly polls cornered his party on issues ranging from the dissent within to sky-rocketing prices of lentils among other things.
Sinha was in the news recently for hailing fellow BJP MP Kirti Azad, who has been suspended from the party for questioning the conduct of Union finance minister Arun Jailey in the affairs of the DDCA, as a 'hero'. Going by the contents of the biography, Sinha seems unlikely to give up his aggression.
Pradhan writes that in 2014, when he was almost denied re-nomination from the Patna Saheb Lok Sabha seat, "The politics within his party had almost brought him to breaking point, almost up for grabs to an opposition party".
In a "startling moment of candour", writes Pradhan, he communicated, "In 2014, if I had not been given a ticket, I would have stood as an independent."
Even though Sinha was a sitting MP at the time, the party had held back the announcement for his re-nomination for the 2014 Lok Sabha poll. Sinha blames this on opposition from senior Bihar BJP leader Sushil Modi, who allegedly aspired to be the chief minister.
"Advaniji wanted to make me CM, so did Atalji," claims Sinha, but he wanted to be a Union minister, a position he could not get when Narendra Modi became the Prime Minister in 2014.
"Once when I was in two minds about the party, Sushma Swaraj had cooled me down and said, 'Shatrughan, even if they cut me to pieces or pull out my hair, I will never leave this party'. Her resolve gave me the strength to stay on," Sinha says.
"An astrologer had predicted I would change my party just once in my political career," Sinha says in the book.
Pradhan writes that Advani appreciated Sinha for joining the BJP about 25 years ago when the party was not in power and had only a few things going for it. He is also quoted as saying why Sinha's friendship with all shades of politicians was not to be categorised as traitorous to his party.
"Irrespective of his political affiliations, we are his himayati, prashanshak, his admirers. He will be welcome anywhere irrespective of the party. Unka swagat hoga," Bihar CM Nitish Kumar, whom Sinha described as a top-rated CM in the midst of a pre-poll war of words with the BJP, says.
"If he needs our support, we are there for him. Samarthan denge. He is a good man. Our doors are open for him, twenty four hours, bilkul swagat karenge, openly bola hai (We will definitely welcome him, I am saying this openly)," RJD chief Lalu Prasad adds.
The book says being 'ignored' in the BJP was difficult for Sinha to bear after a time he became its poster boy making a popular troika at the top. "There would be three aircraft available for campaigning – for Atalji, Advaniji and me," Sinha always said, Pradhan writes.
Politics, of course, is just one part of the book which also deals with his early years in the Mumbai film industry, how he first saw his now wife Poonam as a school girl on a train and fell for her and his close ties with top Pakistan leaders.