With Nepal's Tarai, India's balancing act
Dec 09, 2015 10:36 PM IST
When Nepal's Madhesi leaders met National Security Advisor Ajit Doval on Tuesday evening, one of them – Rajendra Mahato – outlined the consequences of the failure of the current Madhesi agitation, which has now crossed 115 days.
When Nepal's Madhesi leaders met National Security Advisor Ajit Doval on Tuesday evening, one of them – Rajendra Mahato – outlined the consequences of the failure of the current Madhesi agitation, which has now crossed 115 days.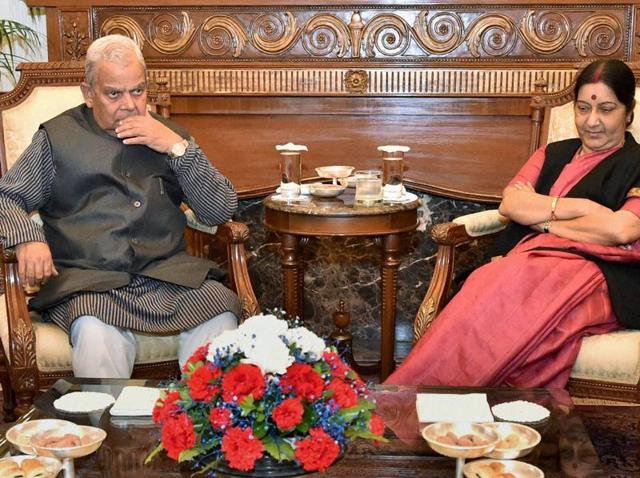 "If our legitimate demands are not met, and we fail, three things will happen. The young in Tarai will lose faith in non-violence, and many may pick the gun. The demand for a Madhes Pradesh within Nepal will lose the argument, and the demand for a separate Madhes country will gain traction. And communal tensions between pahadis and Madhesis will increase."
Doval listened carefully, for these are precisely the worries of the Government of India. Since Nepal promulgated a constitution on September 20th, Kathmandu-Tarai, and Kathmandu-Delhi ties have dipped. Madhesis and Janjatis (tribal groups) claim the constitution erodes the architecture of political representation, of affirmative action, of citizenship and of federalism.
All three consequences mean increased instability in Nepal and in the worst case, a possible civil-war like situation. It means Indian interests, its citizens and economy, across the northern frontier of Bihar and UP, will be hurt. It will disrupt the close kinship links between people of the two sides. It will create further bitterness in relations with Kathmandu, for even if India has nothing to do with the ground situation in Tarai, Kathmandu will blame Delhi. It will result in parallel cross-border political-criminal networks, and complicate domestic politics.
And that is why Delhi has invested enormous political capital in telling the Kathmandu establishment to accommodate the aspirations of its own disaffected people. A united and stable Nepal is in India's interest – and a united and stable Nepal is possible only with an inclusive constitution, for only an inclusive constitution can be a sustainable constitution.
Ironically, even though Delhi is investing in preserving a united Nepal, Kathmandu's government has spun a narrative that India wants to 'disintegrate' Nepal by encouraging Madhesi unrest. The sensible policy goal has been misunderstood even by sections in Delhi, who see a 'big brother' bullying the 'smaller neighbour' without looking at the power structure within the smaller neighbor. India is being blamed for the 'blockade' even when Madhesi leaders have publicly owned up to blocking the supply of goods.
In the past week, there has been hectic political activity in Delhi around the Nepal crisis.
Foreign Minister Kamal Thapa arrived with a tentative political roadmap. The Nepal government would support passage of two amendments to ensure greater representation and proportional inclusion; it would issue clarifications on citizenship provisions; and it would form a political mechanism to resolve the issue of federal boundaries in three months. India told Thapa positive political initiatives would elicit positive responses; it asked him to reach out to the Madhesi parties; and it suggested that Thapa put this in writing.
Thapa, triumphantly, declared that a deal was done. The subtext was that Kathmandu had convinced Delhi – and it was now Delhi's job to convince Madhesis. No such signal was given by India.
After his return, Thapa gave a non-paper to the Indian ambassador in Kathmandu, who in turn shared it with Madhesi leaders.
In this backdrop, the Madhesi leaders arrived in Delhi on Sunday, and met Sushma Swaraj over dinner for three hours. They also met the influential BJP general secretary Ram Madhav, opposition figures, and FS S Jaishankar, besides Doval, and spoke at a think-tank and a university. Their visit coincided with a Rajya Sabha debate on Nepal – and all leaders could be seen glued to their hotel television sets, applauding as Swaraj robustly defended her government's stance.
In official engagements, three key messages emerged from the Indian establishment. One, Delhi would continue to support the quest for an inclusive constitution. Two, India urged Madhesi leaders to exercise utmost flexibility. Swaraj requested them to look at Thapa's non paper and take forward the conversation. However, there was no pressure – as Kathmandu propaganda had it – to accept such a roadmap. And three, there was concern expressed at the extended duration of the movement and hope that there would be a speedy resolution.
From the Madhesi side, leaders explained the discriminatory nature of the constitution, expressed determination to continue the agitation, and made it clear that the government amendments were inadequate. Crucially, they said any deal that did not include revision of federal boundaries – which was essential to exercising self-rule – would not be acceptable. The Madhesi leaders reiterated they wanted 'cash, not a cheque', for cheques by the Nepali state had a history of bouncing.
Sustained political attention to Nepal crisis in Delhi is a good sign. But convincing Kathmandu, and Nepali PM K P Oli, to wake up to democratic aspirations remains India's biggest diplomatic challenge at the moment.