Lalu Prasad, sons hold lessons in politics ahead of Bihar polls
Updated on Jul 20, 2015 08:40 AM IST
The RJD chief pounces on the caste census as a bogey that may have huge electoral potentials.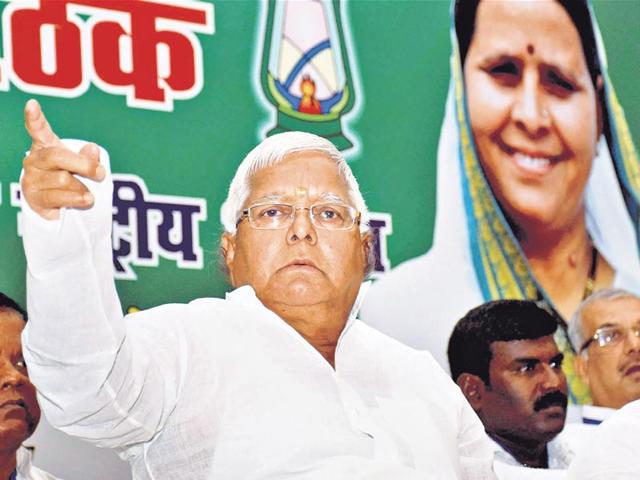 If you want a tutorial in politics, the place to be nowadays is 10, Circular Road, Patna.
The residence of former Bihar chief minister Rabri Devi witnesses a regular stream of visitors as husband Lalu Prasad and sons, Tej Pratap and Tejashwi, take turns to give lessons.
"Ram Vilas Paswan, mausam vaigyanik, kuchh nahin bolta. Yeh Ganesh ko dudh pilane wale jaati census ko chhupa rahi hain. (Paswan, a weather scientist, is silent. Those who offer milk to Ganesh are concealing the caste data)," Lalu told a 200-plus gathering of Dalit and Mahadalit representatives on Friday, taking a swipe at his Lok Janshakti Party rival for his proximity to the powers-that-be.
The RJD chief made his political fortunes riding the Mandal wave in 1990. Twenty-five years on, the 67-year-old attempts to re-create a caste wave this Bihar election to be on the winning side -- a sine qua non for a party that seems to have lost touch with Bihar's electorate -- and to bequeath his sons a durable political legacy.
"Go and tell people about the findings of this census. Every third family in the country is landless. 13% of households live in single rooms. Socho, agar chaar beta hai aur unki shaadi ho gayi, to kya hoga (Think, if there are four sons and they get married, what will happen)?" he says.
Next, representatives of different communities and students from 3 Ambedkar hostels in Patna and Arrah were called to address the gathering.
Lalu often interjects to help them with his perspective on social justice, quoting BR Ambedkar, Ram Manohar Lohia and Jai Prakash Nayaran.
The crowd then leaves, happy with Lalu and the laddoos he offered.
This was one of many meetings he's been holding to create a movement for social justice.
The RJD chief pounces on the caste census as a bogey that may have huge electoral potentials. Low on industrialisation and private sector investment, the best a youth in Bihar can hope for is a government job. Therein lay Lalu's hope, too.
After Lalu's darbar, Tejashwi takes over — meeting students. "I have to visit each of the eight universities. You have to mobilise students (on the caste census)," he says.
He believes young voters have faith in his father's politics. "This is also development. We are not against any caste. If somebody is barefoot, I would like to give him shoes. We will not ask others not to wear them."
After Tejahswi, elder brother Tej Pratap addresses a crowd loyal to his fledgling anti-RSS outfit, the Dharmanirpeksh Sevak Sangh. As expected, unabashed RSS-bashing continues till JD(U) leader Sharad Yadav's SUV pulls in through the main gate.
Early on Saturday, Lalu was back in his lawn. A visitor from Chhapra timidly announces his offering of fish and sattoo. Gesturing to leave the bag in a corner, Lalu snaps: "Machhi laata hai, ghoos deta hai ticket ke liye (A fish bribe for a poll ticket)!" Then he asks an aide to show him the fish and hollers: "Feko, feko. Sada hua hai (Throw it out, it's stale)!"
A commotion at the gate stops him. "Aaj koi Muslim ko nahin rokega. Eid hai, sabko andar aane do," he shouts.
Read:
It's Mandal versus kamandal, Lalu Prasad says ahead of Bihar polls
PM Modi may dole out gifts for Bihar ahead of assembly polls
Close Story
Personalise your news feed. Follow trending topics