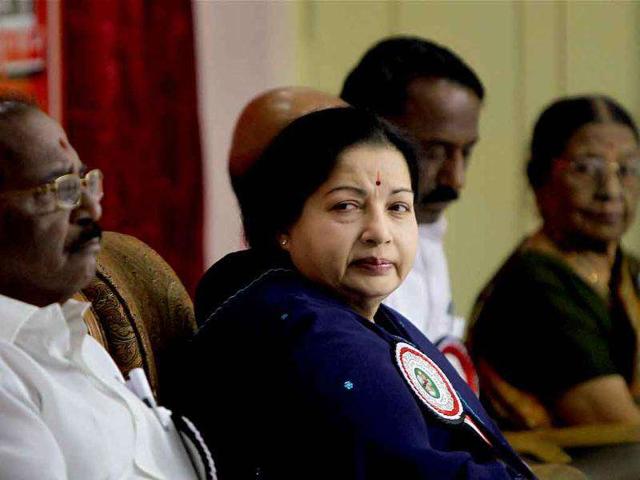 Power of three: Jaya, Maya, Mamata
At least two women are taking a calculated gamble to make their presence felt in the post-election scenario to form the next government in New Delhi. The prospects of a third woman leader from UP joining them cannot be ruled out.
IANS | By TR Ramachandran
, New Delhi
UPDATED ON MAR 10, 2014 04:11 PM IST
At least two women are taking a calculated gamble to make their presence felt in the post-election scenario to form the next government in New Delhi. The prospects of a third woman leader from Uttar Pradesh joining them cannot be ruled out.
A broad picture will emerge after May 16 when election results are out. It will be known then if the BJP-led NDA has a chance to regain power after a gap of 10 years.
Their 'Shining India' publicity campaign in 2004 boomeranged on the Atal Bihari Vajpayee government and sent it packing, much to its own surprise.
Every general election brings about a churning of its own in the political firmament. This time a relatively large number of leaders have thrown their hat in the ring for the office of prime minister. These are powerful regional satraps.
The women among them are Trinamool Congress's temperamental Mamata Banerjee and AIADMK's undisputed supremo J Jayalalithaa.
Read: Jaya thanks Mamata, 4th front gets a boost
Read: Jaya breaking, making deals on her way to Delhi
Banerjee ended the more than three decades of the Left Front rule in West Bengal. Jayalalithaa has been in the forefront in Tamil Nadu, politically outsmarting the DMK and its patriarch M Karunanidhi.
They are aware neither of them can secure a majority of 272 seats in the Lok Sabha. They want at least to be queenmakers at the Centre and have a say in the policies and programmes of the new government. Better still will be to create conditions in which one of them can even head a minority government.
Jayalalithaa views herself as a serious contender. The general council of the AIADMK in January this year too adopted a resolution eulogising the party leader as a good administrator and an experienced leader good enough to run the affairs of the nation.
Banerjee created a flutter when she announced she was willing to accept Jayalalithaa as prime minister. This was in no small part facilitated by Jayalalithaa when she severed her party's links with the Left parties in Tamil Nadu, as the communists are an anathema to Banerjee.
Read: Mamata not averse to coming together with Mayawati, Jaya
Full coverage: 2014 Lok Sabha elections
Political pundits dismiss as preposterous a suggestion of a minority government headed by a woman leader confined to a southern state. They dismiss it out of hand as unthinkable. The dominant male counterparts in the Hindi heartland will not have it at any cost.
But what is forgotten in such calculations is that if the women can form a cosy bloc among themselves by running up a tally of 70 to 90 seats or stretch it to 100 at best, the 16th Lok Sabha can witness a revolutionary configuration and more.
With West Bengal accounting for 42 seats and Tamil Nadu 39 seats in the Lok Sabha, Banerjee and Jayalalithaa have to work overtime for winning 30-odd seats or more from other states.
Read: Guns, bullets fly thick and fast in Mamata's Bengal
Then, if they rope in the Bahujan Samaj Party's Mayawati too, the triumvirate of women leaders can form a formidable bloc and indeed call the shots. Mayawati too has fancied herself as a prime ministerial candidate in the past.
UP contributes the maximum number of 80 seats to the Lok Sabha. Pollsters see Mayawati doing better this time than Samajwadi Party arch rival Mulayam Singh Yadav. The SP has suffered inexorably because of the riots in Muzaffarnagar. This has badly hurt the SP's Muslim vote base.
It might be extremely difficult for Mulayam Singh Yadav to retain the 23 seats he managed to win during the 2009 general elections. With the minority votes in Uttar Pradesh being split among the BSP, SP and possibly the Congress, the prospects definitely brighten for Mayawati because her core constituents have not only remained with her but increased.
Read: Mayawati alleges 'fixed match' between Modi, Mulayam
Assuming that Mayawati, Banerjee and Jayalalithaa manage 30-odd seats each or more in their respective states, they can run up a tally of 90-100 seats which will make them an enviable bloc with added muscle.
Such a possibility cannot be dismissed out of hand since Banerjee and Jayalalithaa have agreed in principle to work in tandem.
Jayalalithaa has since invited Banerjee to Chennai after the results to assess the situation and work out their strategy afresh. This assumes significance in the ongoing efforts to have a non-Congress, non-BJP front and using women power as a bargaining chip in the stakes for the prime ministership.
Read: Congress, DMK are 'anti-Tamils', charges Jayalalithaa
Banerjee is backed by anti-corruption crusader Anna Hazare. Preferring to steer clear of political parties and groups, he has made an exception in the case of Banerjee and her Trinamool Congress. He has also assured her to campaign selectively for the party.
Close