Rahul effect: subsidised LPG cylinder quota to be increased to 12, says Veerappa Moily
Minutes after Congress vice-president Rahul Gandhi made a pitch for increasing the quota of subsidised cooking gas (LPG) cylinders from nine to 12 per household in a year, oil minister M Veerappa Moily on Friday said the quota would be hiked. Our PM will be chosen by Cong MPs democratically: Rahul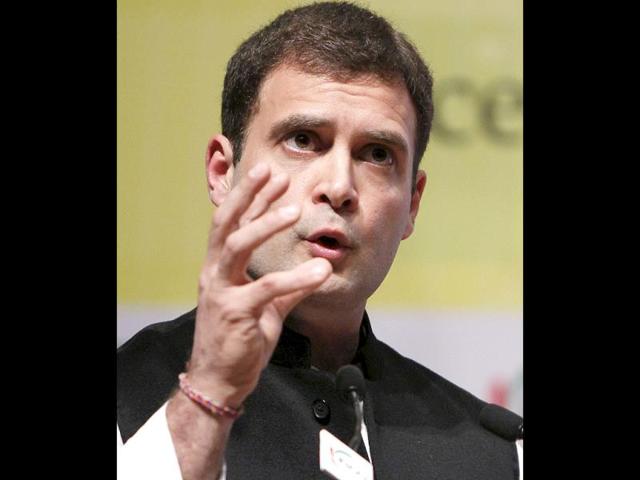 Updated on Jan 17, 2014 07:47 PM IST
Minutes after Congress vice-president Rahul Gandhi made a pitch for increasing the quota of subsidised cooking gas (LPG) cylinders from nine to 12 per household in a year, oil minister M Veerappa Moily on Friday said the quota would be hiked.
"Yes, the cap will be increased to 12," Moily said soon after Gandhi made a demand to Prime Minister Manmohan Singh at the All India Congress Committee (AICC) session in New Delhi.
"Pradhan mantriji nau cylinder kaafi nahi hai. Baara chahiye (Subsidised LPG cylinders should be raised from 9 to 12)," Gandhi said.
Moily, who till last week had maintained that there was no proposal for raising the quota of subsidised LPG cylinders, said the decision would be announced after an approval from the Union Cabinet.
Read: Our PM will be chosen by Cong MPs democratically: Rahul

Oil ministry officials said they will move a proposal for the consideration of the cabinet committee on economic affairs or cabinet committee on political affairs once Moily instructs them to do so.
Moily had recently stated that 89.2% of the 15 crore LPG consumers use up to nine cylinders in a year and only 10% have to buy the additional requirement at the market price. If the quota is raised to 12, about 97% of the LPG consumers would be covered by subsidised LPG, he had said.
Increasing the limit to 12 would result in an additional fuel subsidy burden of Rs 3,300 crore-5,800 crore for the government, officials said. With a view to cutting its subsidy bill, the government had initially capped the supply of subsidised domestic LPG cylinders to six per household in a year in September 2012.
The annual quota was raised to nine in January 2013.
Consumers who have exhausted their quota have to buy LPG at the market price of Rs 1,258 per cylinder. Subsidised LPG costs Rs 414 per 14.2kg cylinder in Delhi.
Close Story