Rohith Vemula's death not a matter of caste battle: Smriti Irani
HRD minister Smriti Irani on Wednesday said the death of Dalit scholar Rohith Vemula was "unfortunate" but caste had no role in it.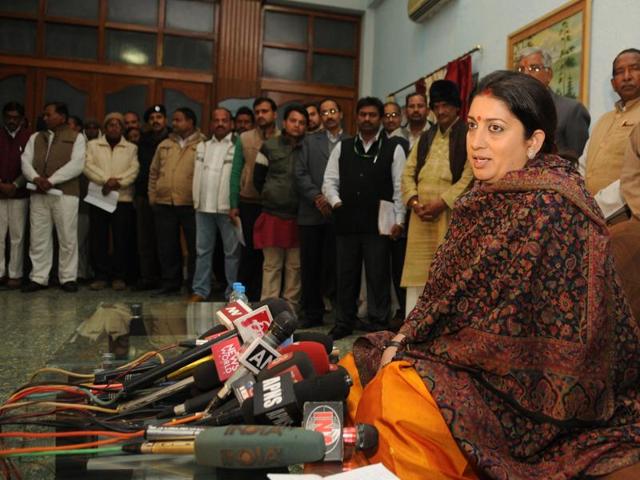 Updated on Jan 20, 2016 06:18 PM IST
The suicide case of Rohith Vemula, a research scholar at University of Hyderabad, was not a "Dalit versus non-Dalit issue", and there was a "malicious attempt to project it as a caste battle", human resource development minister Smriti Irani said on Wednesday.
"This is not a Dalit versus non-Dalit issue as being projected by some to ignite passion," Irani said in Delhi while rejecting allegations that her ministry had put pressure on Hyderabad Central University to suspend Vemula.
"The document which is being circulated as Rohith Vemula's suicide does not mention any name or MP or minister," Irani said in response to allegations that Union minister Bandaru Dattatreya got the student suspended and accused him of being "anti-national".
Vemula ended his life on Sunday in the University of Hyderabad after his suspension following an alleged clash with a leader of the Akhil Bharatiya Vidyarthi Parishad, which is affiliated to the RSS. BJP leaders are concerned that the nationwide outrage over the suicide may seriously affect its electoral strategy.
"The document which is being circulated as Rohith's suicide note does not mention any MP, any university official or an organization," Irani told a news conference.
"A group of students allegedly attacked another student; we have ascertained that this is not a Dalit vs non-Dalit confrontation," she said. "The students challenged the order of suspension from hostel, HC refused to put a stay on the order," she added.
"My request is to be extremely responsible, I will not comment on unsubstantiated reports," Irani said to questions over a caste angle in Vemula's suicide.
Read More | Dalit student's suicide: Cornered, Dattatreya plots next move
'India's on fire': Letter to Rohith Vemula from his transgender friend
First Rahul, now Kejriwal to visit Hyderabad University amid protests
All you need to know about the Dalit scholar suicide row
Union min Dattatreya charged for Dalit scholar suicide, probe ordered
Close Story