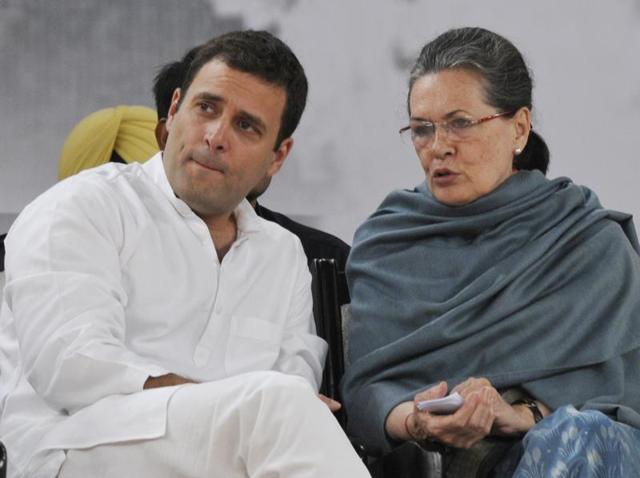 Sonia, Rahul to face court in Herald case, Cong alleges harassment
Several Congress leaders on Saturday expressed confidence that 'truth will prevail' in the National Herald case as hundreds of supporters gathered across India in show of support hours ahead of party president Sonia Gandhi and vice-president Rahul Gandhi's apperance in a Delhi trial court.
UPDATED ON DEC 19, 2015 02:38 PM IST
The Congress on Saturday accused the ruling-BJP of targetting its leadership and resorting to 'unprecedented level of vendetta politics' in the National Herald case in which party president Sonia Gandhi and vice-president Rahul Gandhi are set to appear in a trial court.
"We are not giving any political colour, it is the BJP which is doing so in this case," Congress' Mallikarjun Kharge told reporters.
The Congress president and party vice-president have been summoned by the trial court on a private criminal complaint of BJP leader Subramanian Swamy of cheating, criminal conspiracy, misappropriation of property and breach of trust on Saturday at 3pm. Swamy had filed the complaint in 2012.
Apart from the top leaders, party treasurer Motilal Vora, Oscar Fernandes, Suman Dubey, and Sam Pitroda have also been charged in the case.
"Before the elections, the BJP had given a call for Congress-free India, now they are trying to have a Opposition-free India," senior leader Ghulam Nabi Azad added.
"The PM is targetting the Congress leadership, but he won't be able to silence us," he said.
Read: National Herald case: What are Sonia, Rahul's legal options
Party spokesperson RS Surjewala even called Swamy "a stooge of Prime Minister Narendra Modi" adding that "I am saying it with a sense of responsibility: Randeep Surjewala on National Herald case".
"If Subramanian Swamy is not acting for Narendra Modi and the BJP, then why has he been given Z-category security and government bungalow?" he asked.
He also expressed full faith in the Indian Constitution, judiciary and law saying they will get justice.
'Truth will prevail'
Earlier in the day, several other Congress leaders too said that 'truth will prevail' in the National Herald case as hundreds of supporters gathered across India in show of support.
"Sonia ji and Rahul ji have always walked on the path of truth and truth will prevail. We have complete respect for the judicial process and will fight the legal battle in accordance with law," Surjewala was quoted as saying by ANI.
Surjewala's senior colleagues Ashwani Kumar and Abhishek Manu Singhvi, who is representing the Gandhis, also expressed confidence on the judiciary.
"Fully confident that we will be able to put forth our point of view to the court in best of our capacity," Kumar told ANI.
"We have faith in judiciary. All legal options, including bail, are available," Singhvi added.
Congress president's son-in-law Robert Vadra, who reports said will accompany her to the court, also took to Facebook to express his support for them.
"My full support to my mother in law and brother in law. Politics of vendetta and desperate malicious attempts of defamation, will not be believed. Truth shall prevail," he wrote.
Show of strength
While Congress MPs and leaders will meet at the AICC headquarters in the capital, party workers, who have come from Amethi and Rae Bareli, shouted slogans and carried placards saying "Sonia tum sangharsh karo, hum tumhare saath hain" and "Modi tumhari tanashahi nahi chalegi".
A heavy deployment of police, paramilitary and special protection group has been put in place to prevent any disruptions at the Patiala House courts.
Read: Gandhis face court over National Herald, Congress strategy ready
Besides Delhi, Congress supporters have also gathered in Bhopal, Mumbai, Bengaluru and other parts of the country in protests against the government, rallying support for their top leaders.
In Bengaluru, workers held a shirtless demonstration in Bengaluru and raised slogans against Prime Minister Narendra Modi and held posters that depicted him as the Nazi leader Adolf Hitler. One of the posters even had the PM dressed as a clown standing along with Hitler.
'Politics of vendetta'
Surjewala also continued to accuse the ruling Bharatiya Janata Party of playing vendetta politics and said it has levelled baseless allegations in the case.
"It is political vendetta led by Narendra Modi and Subramanian Swamy is only a small cog in this wheel of conspiracy," Surjewala told ANI.
"Why is it that from the home minister to V Naidu and all other ministers continue to level completely biased allegations in the National Herald case?" he asked.
Comments from Congress leaders came after a scathing attack on the BJP by another senior Congress leader, Digvijaya Singh. He had said on Friday that the National Herald case is another example of vilification of the Nehru-Gandhi family by the ruling party and accused the BJP of running a sustained campaign against the Nehruvian ideology,
"BJP, RSS combine have always considered Nehruvian Ideology and Nehru-Gandhi family as biggest threat to their growth. They have run a sustained campaign against them. National Herald is another example of their vilification campaign against them," Singh said in a series of tweets.
National Herald newspaper was started by former prime minister Jawahar Lal Nehru in 1938 during the freedom struggle. It originally served as a mouthpiece of the Congress. Over the decades circulation and finances dropped, before it finally closed in 2008 with a debt of Rs 90 crore.
In 2014, the trial court asked Sonia and Rahul to appear in the case. On December 7, 2015, the high court dismissed their appeal and asked questions about the legality of the unsecured loan. They were also directed to appear before the trial court.
Close