Why should I remove Azam Khan? UP CM Akhilesh asks at HTLS
Uttar Pradesh chief minister Akhilesh Yadav said on Friday talked about the development work his government has carried out in the politically crucial state.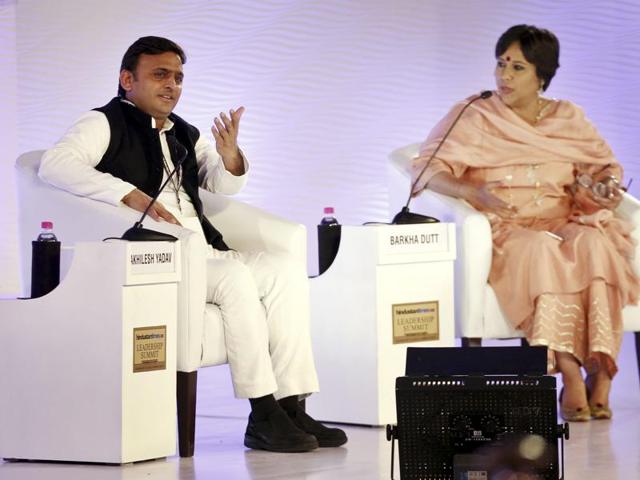 Updated on Dec 04, 2015 02:55 PM IST
Uttar Pradesh chief minister Akhilesh Yadav said on Friday that decisions taken by his Samajwadi Party government can be an example for the nation.
Yadav, the youngest chief minister of the state, was speaking at the Hindustan Times Leadership Summit in New Delhi about how UP has transformed from being India's most populous state to becoming its fastest growing state.
When asked if he would remove controversial minister Azam Khan from his cabinet, Yadav shot back saying: "Why should I?"
"Whatever we say is taken out of context. If you listen to Azam Khan properly, you'll understand what he's saying," Yadav, 42, said in conversation with NDTV's consulting editor Barkha Dutt.
He, however, admitted that the image of the SP was hit because the party did not focus on branding and marketing.
Yadav, a postgraduate from Sydney, said the media was projecting the worst side about the state and not the good work his government has been doing.
"Samajwadi Party has balanced between farmers and cities," Yadav said.
With a population of around 200 million, UP is a politically critical state as its sends 80 MPs to the 545-seat Lok Sabha and will face the assembly elections in 2017.
Earlier this year, industry body Assocham had said that UP has been performing well on several fronts including economic growth, infra development and labour productivity and is well poised to register a double-digit growth by the 2016-17 fiscal.
Assocham had added that the state has started outperforming the country on various parameters including economic growth, infrastructure development, industry, services sector rise and labour productivity.
Read: Parliament is functioning, credit goes to all parties: Modi at HTLS
Talking about the Dadri lynching incident , Yadav said the police took prompt action. A 55-year-old Muslim man, Mohammad Ikhlaq, was killed by a mob in Bisada village of Uttar Pradesh following rumours that he slaughtered a calf and ate beef.
When asked on his stand on gay rights, Yadav, a postgraduate from Sydney, said: "I don't want to go into the debate on LGBT rights. Some think it is good, some bad. It is a global debate."
The two-day Hindustan Times Leadership Summit will see global leaders come together to discuss and deliberate India's future as the world's bright spot. Politicians and political thinkers, cricketers and actors, doctors and spiritual author will put their minds together in bringing out the best that India can do.
On Day 1, Yadav spoke after Prime Minister Narendra Modi. Union minister for human resource development Smriti Irani, members of Parliament Jyotiraditya Scindia, Sitaram Yechury, Jay Panda and Supriya Sule are the other leaders who will represent the political side of the spectrum.
Close Story
Personalise your news feed. Follow trending topics