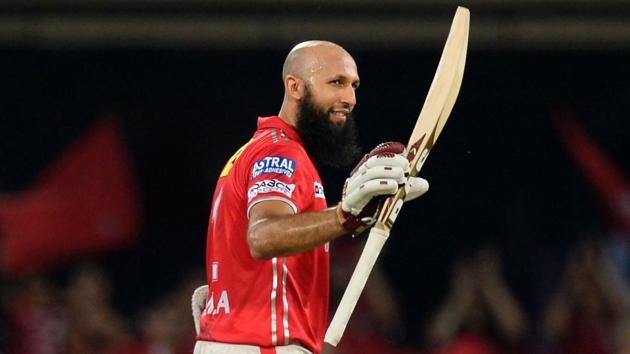 Virender Sehwag hails Hashim Amla, terms Cheteshwar Pujara one-dimensional
Virender Sehwag said Hashim Amla is among the 'top 5-6 batsmen' in the world, but said Cheteshwar Pujara's ability to play in T20s has been affected by him playing only Test cricket
UPDATED ON APR 27, 2017 01:15 AM IST
With a century and two fifties, Hashim Amla has emerged as the most consistent player for Kings XI Punjab this season. A technically correct batsman, Amla has outshone big hitters like David Miller and Glenn Maxwell in his team. (FULL IPL 2017 COVERAGE)
Two years back, Kings XI Punjab had drafted in Cheteshwar Pujara, another batsman who is known more for his exploits in Tests and sound technique. The experiment failed and Pujara was released soon. This season, he was not even picked at the auctions.
Kings XI Punjab cricket operations head Virender Sehwag believes Amla's contribution has been immense and he will be one of the key players if the team has to qualify for the knockout stage. It looks unlikely as of now as KXIP have just three wins from seven matches at the half-way stage of the tournament.
Comparing the two, Sehwag said Pujara is a one-dimensional player and needs to re-invent his game.
READ | Defiant BCCI bosses end up with egg on face in crucial International Cricket Council meeting
"Amla is among the top 5-6 batsmen in world cricket and has played across formats. He knows how to score runs. He has 50 tons in both ODIs and Tests. With his experience, he has an idea of which bowlers to target and how to play in a situation," Sehwag said.
Sehwag felt that expectations from Pujara were probably too high than he could deliver.
"When Pujara played for us, I think we had more expectations from him but he didn't deliver. This can happen when you play only one format. It becomes difficult to score runs in other formats. Maybe in the coming years, he will redefine his game and do well in the shortest format," he said.
Sehwag also revealed that having Amla at the top has been a blessing for him as a coach as he is consistently grooming and talking to youngsters.
READ | Harbhajan Singh impact: Jet Airways suspends pilot over racism claim
"I give credit for Manan Vohra's form to Amla. I gave him the responsibility to talk to him. He (Vohra) batted and almost won the game for us. Amla is talking to youngsters and sharing his experience and I can see the results. He is a nice person and a great player," he said.
Sehwag said in the coming seven matches, the team will bank on foreign stars to secure a berth in the knockouts. "We know we have been falling short but I think our main strength is batting. For me, the key is to have two of the foreign players performing on any given day.
We had Amla and Maxwell doing well. Even (Shaun) Marsh came in and did well. Putting 170-180 on the board gives the team a target to defend," he said.
Close