Dangawas violence: Meghwals refuse to budge on 18 demands
Meghwal community members remained on dharna outside the mortuary of Jawaharlal Nehru Hospital here for the second day on Saturday raising demands in support of the Dangawas victims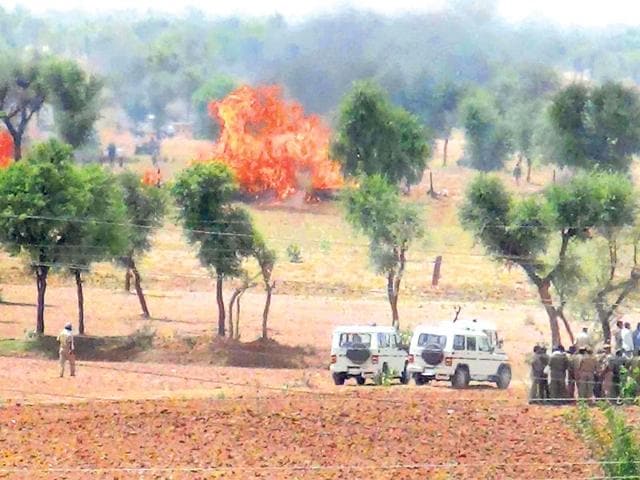 Updated on May 31, 2015 04:40 PM IST
Meghwal community members remained on dharna outside the mortuary of Jawaharlal Nehru Hospital here for the second day on Saturday raising demands in support of the Dangawas victims.
The protesters did not allow hospital authorities to perform the post-mortem examination on Ganga Ram Meghwal, a Dalit, who died at the hospital during treatment on Thursday.
Four people were killed in a bloody clash between the Jats and the Dalits over a land dispute in Nagaur's Dangawas on May 14. Two more, including Ganga Ram, succumbed to their injuries later.
Meghwal leaders, while submitting an 18-point demand letter to the administration, have warned that they will not lift their dharna unless they get a written assurance on fulfilling their demands. "We will lift our dharna only after a written assurance from the government," said Gopal Denwal, state president of All Meghwal Society.
Major demands of the community include compensation of `25 lakh each to the families of the five deceased Meghwals, Rs 15 lakh to the injured, government job to one member, removal of policemen of Merta police station, CBI inquiry into the incident, arrest of all the culprits and cases against those policemen who failed in their duty under section 4 of SC/ST act.
According to the district administration and the police of Nagaur, almost all the "genuine demands" of the community have been met.
A CBI probe has been ordered and compensation of `5 lakh as per the law has been paid, said Vishal Rajan, collector, Nagaur.
Nagaur SP Raghvendra Suhasa said all the 20 policemen of Merta police station posted at the time of the incident had been removed.
Additional divisional commissioner (Ajmer) Yunus Khan Pathan said all the major demands of the Meghwals had been fulfilled and they should cooperate with the administration now by allowing the post-mortem on Ganga Ram's body. Their other demands may be considered but they have to give some space to the government, he added.
Close Story
Personalise your news feed. Follow trending topics