Gujjar agitation: Third round of talks remains inconclusive
Dissatisfied with government's proposal, Gujjars say the next step will be taken after consulting Bainsla. Meanwhile, home minister appeals protestors to vacate tracks and highways, warns of police action else.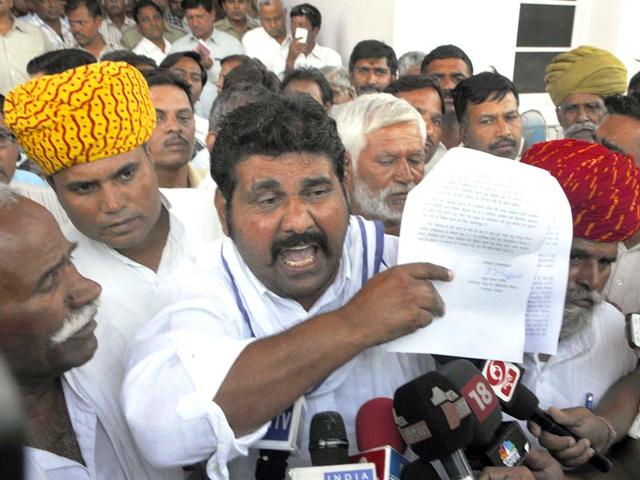 Updated on May 28, 2015 09:57 AM IST
The third round of talks between a delegation of Gujjars and cabinet sub-committee in Jaipur remained inconclusive on Wednesday. Dissatisfied with the government's proposal of reservation above 50% slab, the 13-member Gujjar delegation walked out of the Secretariat's meeting hall.
Gujjar Arakshan Sangharsh Samiti spokesperson, Himmat Singh after the meeting said, "We are not satisfied with the government proposal of reservation above 50%. Decision over further talks will be taken on the railway tracks." Commenting on the HC's order, he said only the government would know what the court has ordered, as they have been told nothing.
Heading the cabinet sub-committee, health minister Rajendra Rathore said, "All options are open and we are ready for talks. We have conveyed that if there are any lacunas in Dev Narayan Yojna or in the 2008 Act for Gujjar reservation, we are ready to review."
He said talks went on cordially though there was a deadlock. But the delegation has assured they will come back for dialogues after consulting their leader Kirori Singh Bainsla. The government has in principal agreed to give reservation according to 2008 Act brought by BJP government. "We are hopeful that the next round of talks would be decisive," said the minister.
Meanwhile, Rajasthan home minister Gulab Chand Kataria said the government would request the protestors to vacate the railway tracks and highway in compliance to the HC's Wednesday order. "We are making efforts to convince them. I personally also appeal to them to vacate tracks and highways… otherwise we will be forced to use police. We will hand over the HC order copy to agitators. We do not want any untoward incident to happen," he said.
"Talks with Gujjar leaders are in progress and we are hopeful of a solution soon. The leaders will be told about the court's order and sufficient notice will be given to vacate the tracks and highways. In case they do not agree, then we will think of some other strategy," said Biju George Joseph, IG Bharatpur.
Meanwhile, commenting on education minister Kalicharan Saraf's alleged statement on former CM Ashok Gehlot meeting Bainsla, Gehlot said it was done on the directions of CM to divert the attention of the poeple.
"My residence is right in front of the chief minister's residence… what is her intelligence doing? I had not met Bainsla here, but he had come to meet me at Hindaun where I had gone to attend a marriage. I am one of those persons who wish that peace maintains in the state and not those who were trying to instigate stir during our regime. I want that the issue is resolved through talks. There should not be any kind of situation like earlier when lathi-charge and firing occurred," he said.
Close Story
Personalise your news feed. Follow trending topics