MP's incentive for wheat a headache for Rajasthan as upset farmers want price parity
Farmers in Kota, Sikar and other parts of the state, are demanding similar prices for wheat. The Rajasthan government, however, is purchasing wheat at MSP of
₹
1,735 for every quintal fixed by the Centre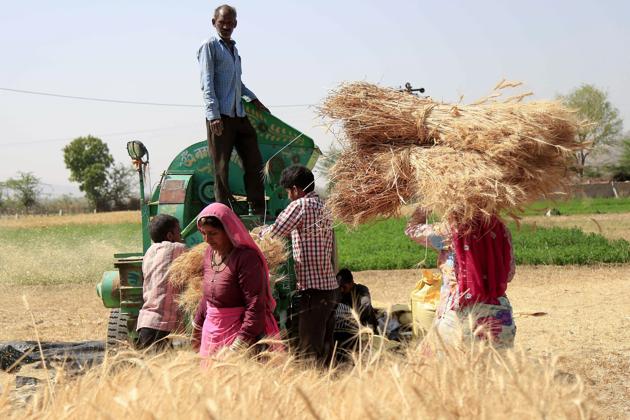 Updated on Apr 11, 2018 10:20 PM IST
The Madhya Pradesh government's decision to purchase wheat from farmers at ₹2,000 per quintal by offering a "special incentive" of ₹265 higher than the Centre's minimum support price (MSP) is proving to be headache for the Rajasthan government.
Farmers in Kota, Sikar and other parts of the state, are demanding similar prices for wheat. The Rajasthan government, however, is purchasing wheat at MSP of ₹1,735 for every quintal fixed by the Centre.
Madhya Pradesh has announced a special incentive of ₹100 every quintal for chana, masoor and mustard in the 2018 rabi marketing season.
According to an official order issued by the Madhya Pradesh government, wheat and other crops, including chana, mustard and masoor, will be eligible for the cash incentive irrespective of the rate at which it is sold in the market.
The state hasn't termed the scheme as a bonus to circumvent a central order that curbs state governments from declaring a bonus over the MSP.
Upset at lower prices prevailing in Rajasthan, farmers in Kota division are planning a "jail bharo andolan" on April 12, to protest against what they call "lower MSP and inadequate arrangements for purchase of wheat and other rabi crops at the mandis".
"At most mandis, farmers are being forced to sell wheat at ₹1,500 every quintal. Farmers are also getting lower prices for chana, which is being sold at about ₹1,000 every quintal lesser than the MSP," said Akhil Bharatiya Kisan Sangarhsh Samiti convener Fatehchand Bagla.
"We will stage protest at the Kota collectorate on Thursday and also court arrest," he said.
Kisan Mahapanchayat president Rampal Jat said since Madhya Pradesh was a neighbouring state it was natural that farmers in Rajasthan will expect similar prices. "When MP government can purchase wheat at ₹2,000 per quintal, there is no reason why the Rajasthan government cannot do the same," he said.
State agriculture minister Prabhulal Saini said MSP was fixed by the Centre and the new norms prohibit declaring a bonus over and above the MSP.
In Rajasthan, the Food Corporation of India is purchasing wheat at 207 designated centres at ₹1,735 every quintal. Rajasthan is the fifth largest wheat producer in the country.
Rajasthan, which goes to the polls in the next few months, has faced a series of farmers' agitations in the past one year due to crash in prices and crop damage.
Chief minister Vasundhara Raje in her last budget before the elections announced a farm loan waiver of up to ₹50,000 for small and marginal farmers that will cost the state exchequer more than ₹8,000 crore.
Besides, the farm loan waiver, the state government has constituted a permanent farm commission and has allocated ₹5,000 crore interest-free loans to the Rajasthan State Co-operative Marketing Federation for procuring mustard and gram.
Close Story