Farmers blocked the railway track at Vallah in Amritsar, Bathinda and protested at Shambhu toll plaza in Ambala, Panchkula's Barwala and Kaithal's Cheeka against the Union government for not fulfilling their demands.

Updated on Jul 31, 2022 12:57 PM IST
The Cabinet Committee on Economic Affairs (CCEA), chaired by Prime Minister Narendra Modi, approved the increase in MSPs for all 14 kharif (summer) crops for 2022-23 crop year.

Published on Jun 08, 2022 06:22 PM IST
In a three-hour-long meeting held with farm leaders, Punjab CM Bhagwant Mann announced a fresh schedule for staggered paddy sowing from June 14 and June 17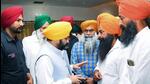 Updated on May 19, 2022 01:22 AM IST
The Election Commission of India had advised the Centre to announce the formation of the committee after the assembly elections in five states, Union agriculture minister Narendra Tomar said.

Updated on Feb 04, 2022 04:45 PM IST
Written by Srivatsan K C | Edited by Sohini Goswami
, Hindustan Times, New Delhi
In a key concession to protesting farm unions, the Union government has proposed to set up a committee "mandated" to ensure Indian farmers get MSP for their produce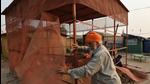 Updated on Dec 10, 2021 12:27 AM IST
By
Zia Haq
, Hindustan Times, New Delhi