State assembly passes bill to conserve, beautify lakes
Mar 22, 2015 04:43 PM IST
The Rajasthan Lake (Conservation and Development) Authority Bill-2015 was passed by voice vote in the state assembly on Saturday
The Rajasthan Lake (Conservation and Development) Authority Bill-2015 was passed by voice vote in the state assembly on Saturday.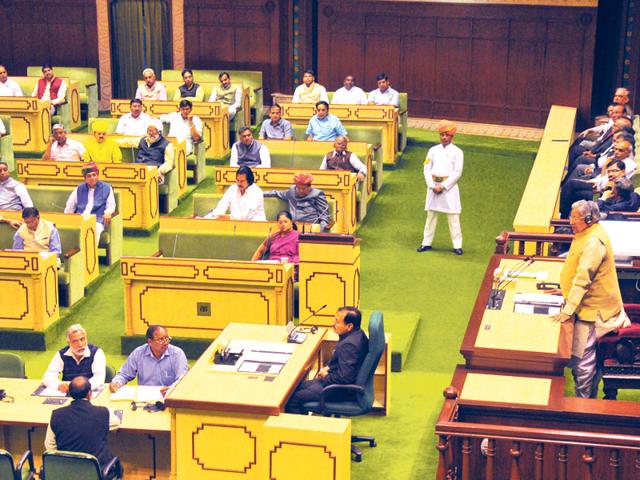 After urban development and housing minister Rajpal Singh Shekhawat tabled the bill in the House, it was subjected to a discussion wherein many MLAs gave suggestions and voiced their concerns.
Highlighting the objectives of the bill, Shekhawat said it would work in the larger interests of future generations. He said that as water bodies in the state were depleting slowly, conservation was the need of the hour.
Stating that water is a "national property", the UDH minister said that everybody should take an unanimous decision to conserve it.
"The objective of this bill is not limited to just conserving and saving lakes; through this, we want to make these water bodies regain their original form. We plan to beautify the lakes, making them look like they did before independence," he added.
Even the state's flora and fauna cannot be saved without conserving lakes, he said, adding that the bill would facilitate the integrated management of the entire eco-system.
The need to conserve the lakes has been felt for a long time now. A recent study by Unesco has revealed that over 50% of the state's water bodies are dying, Shekhawat said.
The minister said that many public interest litigations had been filed in this regard in Udaipur, following which the Rajasthan high court – in 2007 – had ordered the then government to constitute an authority for lake conservation.
The previous government had even brought an ordinance in this regard in 2013, but with little success. Shekhawat said that the present bill is a modified version of the previous one.
The house had earlier decided through voice vote to refrain from sending it to a committee entrusted with gauging public opinion on the matter.
Speaker takes note of officers who broke House rule
Jaipur: Assembly speaker Kailash Meghwal on Saturday took serious note of a few officers who left the House while he was still standing, stating that it amounted to contempt of the house. Even the top officer of the house can be dismissed from service in accordance with its rules, he said.
After the zero hour, Meghwal asked parliamentary affairs minister Rajendra Rathore if any action was taken against a few bureaucrats who had left the House while the speaker was still standing and speaking on Friday. Such behavior only goes to show that they are not committed to their duties in the assembly, he added.
Senior MLA Pradyumn Singh, however, asked the speaker to let the officers off with a warning instead of taking strict action against them. Rule 280 of the assembly rules and processes stipulates that everybody should pay attention to the speaker when he is standing.