Ailing AMRI hospital nurse in Kolkata dies on duty because of alleged negligence
Aug 10, 2017 08:19 PM IST
AMRI, Salt Lake witnessed agitation and unruly scenes on Thursday after Uma Kesh (27) died on duty. Her colleagues alleged she had been complaining of headaches since Monday but was denied medical leave by the authorities.
Uma Kesh, a nurse at Advanced Medical Research Institute (AMRI) in Salt Lake, a prominent private healthcare facility, died on Thursday morning because of alleged negligence by the authorities. The 27-year-old nurse was on night shift when she collapsed.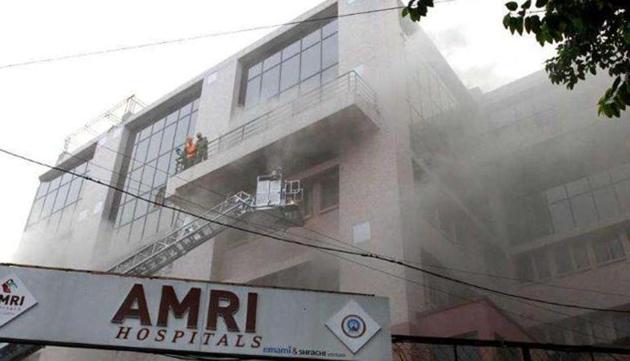 Uma was not well since Monday but her application for medical leave was not granted, alleged her colleagues who assaulted Gaurab Nayar, head of the human resource department. The agitated employees said Uma had been complaining of severe headaches but no diagnosis was done. She continued to work and take care of patients.
Read: 89 dead in Kolkata hospital fire
Death of the nurse brought AMRI back to the headlines for the second time in six years. In December 2011, more than 90 patients were chocked to death - some were too ill to even move - when smoke from a fire at the basement of the AMRI Gariahat unit in south Kolkata engulfed the upper floors.
It was the worst hospital disaster in the country and chief minister Mamata Banerjee ordered stern action against the owners. In February this year, Banerjee pulled up several private hospitals for deaths caused by negligence and cautioned AMRI authorities as well at a public meeting.
Read: Mamata imposes strict regulations on private hospitals, to target schools & colleges soon
Other nurses at AMRI, Salt Lake said Uma collapsed in the wee hours of Thursday. She was rushed to the emergency department where doctors prescribed a CT scan but it wasn't done. She was not even taken to the intensive care unit, they alleged and said a complaint would be lodged with the police.
The employees claimed that hospital authorities wanted the CT scan to be done at the government-run ESI Hospital where employees of private firms are entitled to treatment at subsidised rate. Uma, however, could not make it. She was declared dead at 7.30 am.
"We will investigate the incident and take action if anyone is found guilty. I cannot say anything more till the probe is over," said AMRI group CEO Rupak Baruah.