BJP woman leader charged in child trafficking case in north Bengal
Feb 27, 2017 12:48 PM IST
Juhi Choudhury, a BJP Mahila Morcha leader, is accused of helping run an NGO which sold children to foreign countries on the pretext of adoption.
West Bengal Police has charged a BJP leader in a child trafficking case involving an NGO, which allegedly sold infants on the pretext of adoption.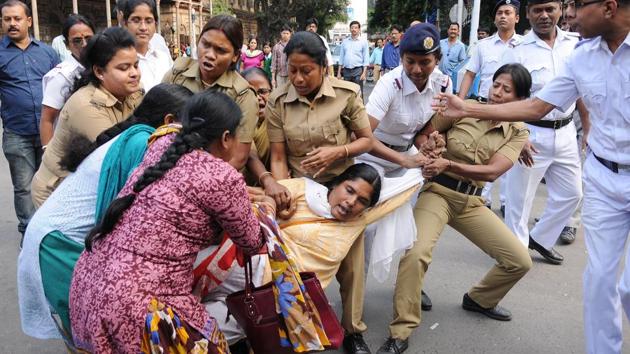 Juhi Choudhury, a BJP Mahila Morcha (women's wing) leader has been named in the FIR by the CID, which has arrested two officials of the NGO Bimala Shishu Griha -- its chairperson Chandana Chakraborty and chief adoption officer Sonali Mondol -- from Jalpaiguri in north Bengal since Saturday.
The busted child trafficking ring allegedly sold two dozen children to different parts of India and countries like US and France, CID sources said.
When her reaction was sought, Juhi Choudhury said Chandana Chakraborty had come to her once with complaints against the state government and stated that she was mulling going to court. "I advised her to approach necessary forums. That was it," she said. However, she could not be contacted later for further queries.
CID sleuths, however, said the BJP leader took Chakraborty to Delhi to meet central government officials. Both of them met a number of times and Choudhury helped run the NGO.
Choudhury is a resident of Maynaguri area where Chakraborty used to work as a school teacher.
"We have arrested two officials of the NGO home and more people have been detained. Interrogation is on. We are also conducting raids at different places," a senior CID officer said.
The accused have been booked under different sections of IPC and Juvenile Justice Act relating to child trafficking, conspiracy and others.
Sleuths had information that the NGO was engaged in trafficking of children and kept a watch for the past couple of months.
According to police, the NGO sold babies and children at a price, disregarding adoption rules.
Last November, the CID busted an inter-state baby trafficking ring following raids in Kolkata and North 24 Parganas districts and rescued thirteen babies and arrested 20 persons, including doctors, quacks and nursing home staffs. The ring involved nursing homes, hospitals, NGO homes in at least four districts of Bengal and other parts of India where babies were sold.
Police said dark-complexioned girls were sold for anywhere between Rs 80,000 and Rs 1 lakh, while fair ones got them as much as Rs 1.5 lakh. Male infants were sold for Rs 2 lakh or more.
In February this year, CID named two doctors including a local BJP leader among 19 people in a charge sheet submitted to additional chief judicial magistrate's court in Basirhat in North 24 Parganas district.