How BJP plans to win north Bengal with Dalit and tribal votes
May 15, 2018 01:54 PM IST
About three years ago, a school with just one teacher run by Vanabandhu Parishad started in a nondescript Shiva temple at Hatipota on the banks of the Jayanti river in the buffer zone of Buxa Tiger Reserve in north Bengal. The informal school called 'Ekal Vidyalaya' imparted free tuition to tribal children of state-run primary schools. A committee was formed with the guardians to discuss village development and create awareness about government schemes.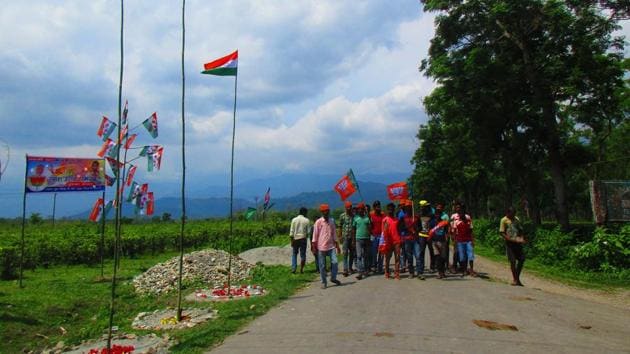 Villagers were trained to produce organic fertiliser and grow vegetables. Shree Hari Satsanga Samiti, an RSS-inspired NGO, established a 'Sanskar Kendra' to organise religious events and impart 'nationalistic moral teachings'.
Read: Water from India is a poll issue in these tea gardens along the Bhutan border
Now, such school-centric village development activities are taking place in 60 villages Kumargram block alone. In the whole of Alipurduar district, there are 210 schools, nearly 100 of which were opened during the past two years.
As the panchayat polls draw near, BJP looks all set to reap benefits of the ground work done by the RSS-inspired organisations.
Significantly, comprising 54 of the state's 294 assembly seats (8 of 42 Lok Sabha seats), north Bengal is the only zone beyond the steamroller of Trinamool Congress's dominance. This is the region that gave the opposition 30 of their 54 assembly seats.
Read: BJP fields record number of Muslim candidates for Bengal panchayat polls
People from the scheduled caste and scheduled tribes together comprise more than 45% of the region's population, north Bengal is one of the most backward regions of the state.
"There were 120 Ekal Vidyalayas in Cooch Behar in 2013. There are 270 now. In Darjeeling district, 100 schools will be added by October to the 186 we have now. In North Dinajpur, 30 schools in 2015 have grown to 270 now," said Rahul Deb Barman, office secretary of Vanabandhu Parishad, Alipurduar.
Shree Hari Satsang Samiti and Vanavasi Kalyan Ashram, too, are active in the tribal-dominated pockets running pre-primary informal schools and hostels for tribal students and secondary and higher secondary schools and holding social events as mass marriage.
Read: Amit Shah's strategy: BJP treating Bengal rural polls as 'quarter-final match' before 2021 assembly election
In areas dominated by Scheduled Castes, organisers of RSS 'jagran wing' holds meetings with members of various Dalit communities. RSS Dalit wing, Samajik Samrasta Manch, are also active. Arogya Bharati, RSS health wing, conducts free medical camps in tribal and Dalit-dominated areas.
In April 2018, RSS organisers in Malda district, where Muslims, SCs, STs comprise 51%, 21% and 8% of the population, held meetings with members of cobbler and barber communities.
"Our focus in north Bengal is set on the Dalit and tribal population. The idea is to create a sense of oneness among all sects and castes of the Hindu society. Helping these impoverished villages to become self-reliant and getting its residents imbibed in the spirit of nationalism are other reasons behind our focus on these areas," said Tarun Kumar Pandit, spokesperson of RSS' north Bengal unit.
Read: Stakes are high for Trinamool Congress and BJP in upcoming Bengal rural polls
Pandit said that RSS's daily shakhas have more than doubled in numbers in the Muslim-majority districts of Malda and Uttar Dinajpur since 2015.
"BJP has always benefitted from RSS' work. All over India, tribal belts now have our MPs and MLAs. North Bengal will be no exception," said BJP Bengal president Dilip Ghosh, who was a RSS pracharak.
"We are confident of capturing several gram panchayats and panchayat samities. If people can vote freely, we may even win the Alipurduar zilla parishad (district council)," said Manoj Tigga, whose victory from the tribal-dominated Madarihat assembly seat in 2016 gave the first signs of RSS' ground work reaping benefit for BJP.
The developments did not escape chief minister Mamata Banerjee's eyes. "I urge you to stay away from those informal schools and so-called Satsang Samitis that are working to create communal hatred," she said in a public meeting in Alipurduar.
According to Trinamool's Alipurduar MLA Sourav Chakraborty, a prominent leader of north Bengal, the party and the administration took steps following the chief minister's public speech.
"We have managed to close down some of their informal schools but they are opening new ones at new places. We are keeping watch," said Chakraborty.