Leavened bread: Raw agents that rise and shine
Jan 28, 2023 04:37 PM IST
What makes the appam soak up mutton curry and the naan cling to the flavour of the saag? It's the air bubbles created by a leavening agent, and a hearty dose of gluten. Explore the physics of fluffiness, in this week's Sound Bites with Swetha Sivakumar.
Leavened bread is such a spongy delight. Naans, appams, idlis — they all seem to have some magic trapped within. What they have are trapped air bubbles, which work as the perfect landing spot for stews, curries, chutneys, and other accompaniments. It's those bubbles that help an appam soak up mutton curry and help the flavour of the saag cling to the naan.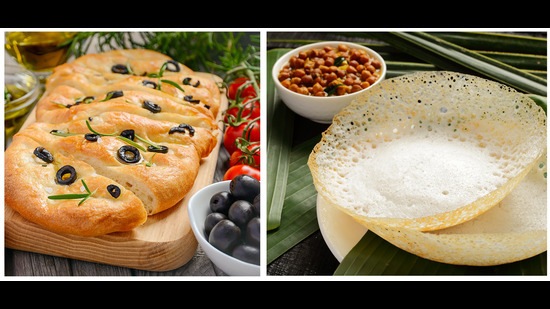 To create the air bubbles, one needs a leavening agent. Before the industrial era, cooks relied on the wild yeast and bacteria in our environment. Batter was left overnight, or longer, for microorganisms to feast on. The yeast and bacteria broke down the sugar to release lactic acid and carbon dioxide, along with other flavour compounds. But this took time (about 12 hours per batch), and without a good source of culture, all kinds of microorganisms could run rampant, leading to rot rather than ferment.
By the dawn of the Middle Ages in the 5th century CE, a short-cut had become popular: live yeast from the foam of alcoholic beverages was added, since alcohol contains yeast and discourages the growth of other microbes. This is the reason toddy is still used, in some recipes, to leaven appam.
By the 19th century, companies had figured out a way to manufacture and sell "yeast cakes" (blocks of fresh yeast cells with moisture intact, and a shelf life of up to two weeks). Today, yeast is available as a powder, almost all its moisture removed. The microorganisms are alive but dormant. They can be awakened by rehydrating in warm water. There's instant yeast too. Its finely milled particles can be added directly to dough, where they rehydrate using liquid from the recipe.
But yeast still takes time; it needs a few hours to eat its meals, process them and generate the byproducts. For those unwilling to wait that long, there are the chemical leaveners known as baking soda and baking powder, first mass-produced in the mid-1800s.
Baking soda (sodium bicarbonate), when mixed with an acid, produces carbon dioxide and leavens dough. But one needs just the right amount of acid or the dough doesn't rise very well.
This challenge prompted the invention of baking powder, which packages baking soda and an acid together (along with cornstarch, to absorb moisture and prevent the ingredients from reacting before their time). This is a magical short-cut that makes dough oven-ready instantly. But it must then be rushed into the oven or the bubbles will escape before the liquid batter can turn into an airy loaf.
To overcome this challenge, we now have double-acting baking powder. Mix this in, let the dough rise, but bake at leisure, because this baking powder releases carbon dioxide in two stages: first when the batter is mixed with water and next when the batter is heated.
All this explains why some breads puff up. But what keeps the air trapped within them as they bake and cool? The answer to that is gluten.
The gluten in the pulverised grain creates a web or scaffold of tiny protein-skin balloons that hold on to the air that is released when the dough is rising. Sadly, only a few grains — wheat, barley, rye and triticale (a hybrid of wheat and rye) — contain gluten. One can also trap air in dough by adding ingredients such as urad dal, which has a mucilaginous layer that traps bubbles much like gluten does.
How do gluten-free breads do it? They use polysaccharides such as xanthan gum and guar gum to hold on to the air bubbles. These don't work quite as well. Which is why gluten-free breads often leave me wanting a different loaf.
(To reach Swetha Sivakumar with questions or feedback, email upgrademyfood@gmail.com)
Enjoy unlimited digital access with HT Premium
Subscribe Now to continue reading