The Sporting Life by Rudraneil Sengupta: Finally, here comes the sun...
Feb 03, 2023 05:55 PM IST
The immense delay in setting up a Women's Premier League in India borders on neglect. But now it's finally here, and lives will never be the same.
Will this be the year that women's cricket in India finally gets the recognition and institutional support it so richly deserves? It certainly looks that way. January has been a wonderful month for India's women's teams.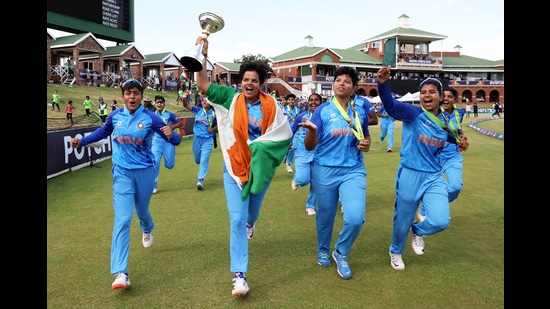 The U-19s triumphant march to the title at the inaugural ICC U19 Women's T20 World Cup in South Africa was not just a thing of joy in itself, but an emphatic message: Look, here are the stars of the future. Some of those stars will hopefully get to make a giant leap into the major leagues with the Board of Control for Cricket in India (BCCI) finally announcing the formation of a five-team Women's Premier League (WPL) beginning this March.
A women's IPL has been so long overdue, the delay has bordered on wilful neglect. Despite being the richest cricket board in the world and hosting the most prosperous cricketing league in the men's IPL, BCCI were inexplicably sluggish in creating a similar space in which women cricketers could flourish.
Australia's Women's Big Bash League (WBBL) and England's The Hundred were demonstrating just how big the women's game had become, with packed houses and robust scheduling at par with men's equivalents. While a few Indian cricketers were finding much-needed exposure, game time and financial incentives playing in WBBL, most of our women cricketers had little to look forward to: a struggling domestic league with few matches, no structured age-group tournament set-up, few international games and, since 2018, an eyewash of exhibition matches played before the beginning of the men's IPL season.
Now BCCI is convinced that the women's game is worth investing in. I wonder what changed their minds. The Indian women's team made it to the finals of the 2005 and 2017 ODI World Cups and the 2020 T20 World Cup, despite the bottom-of-the-rung treatment they got at home, but even those results did not lead to much change on the domestic front.
Perhaps it has dawned on BCCI that the women's game is no longer a risky business proposition with low viewer interest. During that 2020 World Cup final that India lost to Australia, a massive 86,174 people packed the Melbourne Cricket Ground, a record for a women's game in Australia, and a record for a T20 final, men's or women's.
In sports around the world, including ones where women have traditionally been kept in the shadows, there is the buzz of change. In March 2022, more than 91,000 fans turned up at Camp Nou to watch Barcelona Femení host Real Madrid Femenino, setting a new attendance record for a women's football match. In the not-too-distant future, La Clasica may become a phrase as instantly recognisable as El Clasico.
In cricket, IPL has provided a tremendous platform for India's talent pool, with many of the national team's current stars — think Jasprit Bumrah, Suryakumar Yadav — being "discovered" through their performances in the League. For the women, an IPL will mean so much more. Unlike the men, India's women cricketers do not have a robust domestic league. They play barely 30% as many international games as the men do. Which means opportunities are strictly limited and financial incentives are low. Both of these aspects promise to change rapidly with a women's IPL.
Today, instead of staring at an uncertain future of few games and even fewer sources of income, India's U19 T20 champions can dream of a quick route to success. Even if you didn't watch the matches, you've probably heard of one of the stars of that series: 18-year-old Archana Devi, who pouched a sensational diving catch (and took two wickets) in the final. She was raised by a single mother in an impoverished village in UP's Unnao district. After Archana's father died of cancer and her brother died from a snake bite, the villagers branded her mother, Savitri Devi, a "witch". When Savitri enrolled Archana in a government boarding school, villagers whispered that she had "sold" her. Now, Archana (who has one surviving brother) has done something no one else in the village has done: become an international cricketer. Imagine what a WPL contract would mean for the young offspinner and her family.
Enjoy unlimited digital access with HT Premium
Subscribe Now to continue reading