Saved my life: Demi Lovato on why she abused drugs during mental health struggle
Updated on Mar 10, 2021 04:36 PM IST
Recently Demi Lovato, during an upcoming episode of Diane Guerrero's podcast 'Yeah No, I'm Not Okay', opened up about why she turned to drugs when she was struggling with her mental health.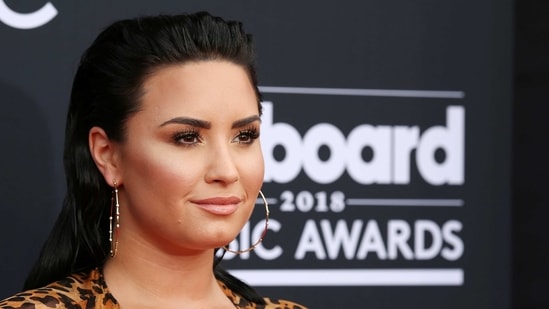 Demi Lovato has always been very open about her struggle with drugs and her mental health, but in a recent interaction on an upcoming episode of Diane Guerrero's podcast Yeah No, I'm Not Okay, she clarified about several topics that people may have misconceptions about. The Sorry Not Sorry singer has admitted that she has been open about her difficulties as she wants people to know that "we all struggle". According to E! News, the American singer and songwriter opened up about why she turned to drugs when she was struggling with her mental health in 2018, after which she took the road to recovery.
The 28-year-old singer shared how people had a misconception that those people who are "using drugs or if they are dealing with an eating disorder or self-harm that they want to die." She shared how turning to drugs and other 'coping mechanisms' saved her just like in a way they also almost killed her. She opened up in the podcast, "In the same way it almost killed me, it saved my life at times because there were times that I dealt with suicidal ideations. And had I gone forward with that in that moment, instead of another destructive coping mechanism, I wouldn't be here to tell my story. I turned to those coping mechanisms because I genuinely was in so much pain that I didn't want to die and I didn't know what else to do."
ALSO READ | Demi Lovato preaches self love, body positivity with glittering stretch marks; opens up about eating disorder recovery
She added, "I did the best that I could at times, and now that I have other tools and other resources, I know how else to deal and how else to cope so I don't have to resort to those behaviours again."
The former Disney star also shared how it was only after she grew up and reached the height of her celebrity that she realised how common mental health issues were. She shared, "I would look at people in the media and I would just compare myself, not feel good enough, not feel thin enough, and wonder how it was that these people were living lives that seemed so perfect but yet I was in so much pain. And when I got into the spotlight, I was like, 'Oh, it's not perfect here, nobody has a perfect life, it just looks that way.'"
She continued that she wishes to break the false image of glitz and glamour that Hollywood has, "If I can break that facade for Hollywood—sorry, Hollywood—someone's got to do it because we're presenting unrealistic expectations to people by only presenting our best selves at all times."
The Solo singer also shared that she no longer tries to put on an image instead she is trying to be "the person that I most identify with in my life today." She went on in the podcast, "I've tried on many identities over the years—the sexy feminine pop star that I felt like people wanted me to be or the poster child for recovery—and now I'm embracing the fact that my lack of commitment to any one identity isn't a lack of commitment. It's just an openness to continue to evolve."
Yeah No, I'm Not Okay is a podcast that primarily focuses on conversations about mental health in communities of colour. Diane shared on her social media that the podcast focuses on "healing and openly talking about the many adversities you may face in your life. Often times, within the BIPOC community, we are taught to bottle our generations of trauma up. As we enter a new era of change and social revolution, we must reflect inwards and begin to mend the pain within".