Lok Sabha elections 2019: BJP first list out, PM to contest from Varanasi, Amit Shah from Gandhinagar
Hindustan Times, New Delhi |
HT Correspondent
Apr 24, 2020 10:55 PM IST
The BJP's first list of candidates comes after a series of meetings of the BJP's central election committee over the last five days.
The Bharatiya Janata Party has released its first list of 184 candidates for the upcoming Lok Sabha elections that will begin from April 11 and end on May 19. The counting of votes will take place on May 23. The list was announced by Union health minister JP Nadda.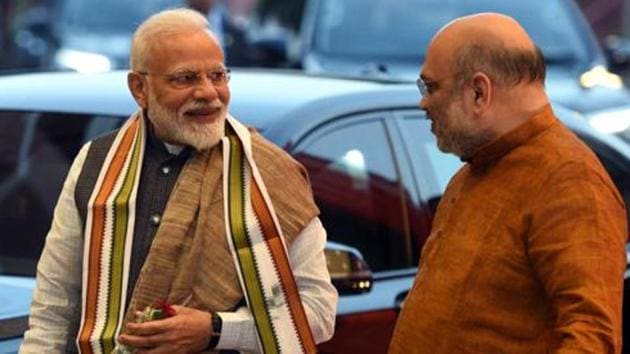 Prime Minister Narendra Modi will contest from Varanasi, while BJP president Amit Shah will contest from Gandhinagar, which is veteran BJP leader LK Advani's seat. Union home minister Rajnath Singh will contest the elections from Lucknow with Nitin Gadkari contesting from Nagpur.
VK Singh will contest from Ghaziabad, Hema Malini from Mathura, Sakshi Maharaj from Unnao, and Smriti Irani from Amethi
The list of 184 names, covered 23 states including Bihar, West Bengal, Karnataka, Rajasthan, Mizoram, Arunachal Pradesh, Andhra Pradesh, Odisha, Jammu and Kashmir, Uttar Pradesh and Jharkhand among others.
The list has been finalised after a series of meetings of the BJP's central election committee in which intense deliberations were held on which candidates to field from which constituency for the April-May Lok Sabha elections.
Read more| Lok Sabha elections 2019: BJP releases list of 184 candidates. Full list here
Among those who have been regulars at these meetings are PM Narendra Modi, BJP chief Amit Shah, home minister Rajnath Singh, finance minister Arun Jaitley, external affairs minister Sushma Swaraj and other senior leaders of the party.
In its list, the BJP has announced 14 of 15 sitting MPs in Karnataka. Only one sitting MP - Karadi Sanganna from Koppal - has not been named.
All three Union ministers from Karnataka - Ananth Kumar Hegde (Uttara Kannada), Ramesh Jigjinagi (Bijapur) and DV Sadananda Gowda (Bengaluru North) will be contesting from their current seats.
The biggest exclusion in the list is that of Tejaswini, Ananth Kumar's wife who was expected to be named as candidate from Bengaluru south.
Two Congress defectors - Umesh Jadhav, the rebel Congress MLA, will go up against Congress's Mallikarjun Kharge in Gulbarga and former MLA A Manju will take on Prajwal Revanna, former prime minister HD Deve Gowda's grandson, in Hassan.
In its list of 184 names, the BJP has fielded many incumbent MPs, putting to rest speculation that the party, wary of anti-incumbency, would field fresh faces in many seats. In Rajasthan, for instance, it has dropped sitting Jhunjhunu MP Santosh Ahlawat. Retaining in Uttar Pradesh, sitting MPs, Hema Malini, Rajnath Singh, VK Singh, Smriti Irani, Satyapal Singh, Mahesh Sharma, Sanjeev Balyan are among the notable ones who are being fielded again.
Read more| Smriti Irani to again take on Rahul Gandhi in Amethi Lok Sabha seat
BJP MP from Unnao Sakshi Maharaj, known for his controversial speeches, has also been given a ticket.
A BJP leader had earlier said that the party would give tickets to only those candidates who "have good chances of winning".
The BJP election panel has called another meeting on Friday to discuss the pending names from different states and make a formal announcement.
Earlier in the day, the BJP released a list of 17 candidates for the assembly elections in two states - six for Arunachal Pradesh and 11 for Sikkim.
The Congress has so far announced the names of nearly 140 candidates in six lists for the upcoming Lok Sabha elections.