BJP to unveil new design of sarees with IAF air strike, Modi prints
The digitally printed sarees cost
₹
650 while the plain saree costs
₹
150, the store manager, Shyam Gupta, said.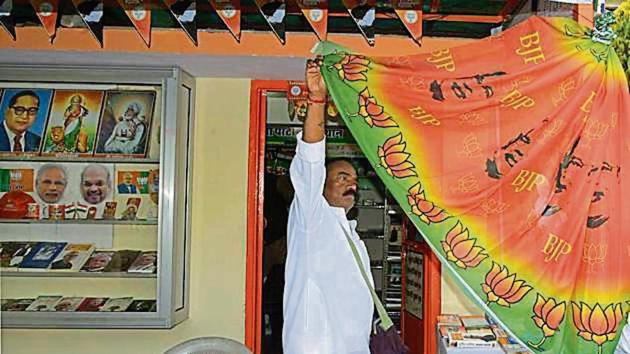 Updated on Mar 10, 2019 10:07 AM IST
The Bharatiya Janata Party (BJP) is set to launch a line of new sarees, with pictures of army soldiers, fighter jets and Prime Minister Narendra Modi printed over them, in a bid to promote the party ahead of the upcoming Lok Sabha elections.
Ashish Jain, BJP creative team head, Rajasthan, says the party has designed two other lines of sarees, and all are procured from the mills of Surat.
They will be unveiled on Sunday at an outlet at the state BJP headquarters in Jaipur, where campaign material for the elections is being sold. Prakash Javadekar, Rajasthan in-charge for the Lok Sabha elections, will inaugurate the outlet in the headquarters.
Apart from the "air-strike" saree, there is a saree in shades of cream, saffron and green that has pictures of the PM, BJP national president Amit Shah and other party leaders, including former Rajasthan chief minister Vasundhara Raje digitally printed on it.
A third is a plain saree in saffron and green colours with Modi's photo and the lotus symbol, the BJP's party symbol, on it. The digitally printed sarees cost ₹650 while the plain saree costs ₹150, the store manager, Shyam Gupta, said.
BJP Mahila Morcha president Madhu Sharma said, "Modi ji is the most popular leader among the masses. The women's cell will place order for the sarees and use them in the campaign for the general elections."
The outlet is stocked with various Lok Sabha election campaign material such as cut-outs of leaders, posters, scarves, mugs, badges, brooches, hair clips, bangles, watches, sunglasses, flags, helmets and umbrellas in BJP's trademark saffron and green colours and the lotus symbol.
Gupta says the items are sold on a no-profit, no-loss basis. "Earlier, workers had to procure items from the market at higher cost. Now they get material at cheap rates at one place."
He says he makes around 10 paisa per item. The daily sales range between ₹300-500. "Once the election dates are announced then the sales will pick up," he says.
While workers are picking up all items, the favourites seem to be cut-outs of prime minister Narendra Modi and party national president Amit Shah. Ashok Yadav, a BJP leader from Alwar, purchased cut-outs of Modi and Shah. "We have planned several public meetings to tell people about the welfare schemes of the Modi government. We will use the cut-outs at these meetings."
Close Story