Lok Sabha elections 2019: Apna Dal seals pact with BJP, gets 2 seats in UP
Published on Mar 15, 2019 09:40 PM IST
BJP chief Amit Shah on Friday tweeted that Apna Dal MP from Mirzapur will contest from her seat with the second seat being decided upon in consultations between the two parties. The BJP is yet to decide on where its other OBC ally the SBSP will contest from.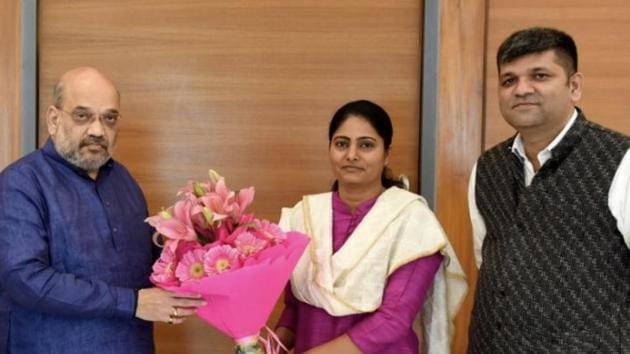 Hindustan Times, New Delhi |
HT Correspondent
The Bharatiya Janata Party (BJP) has inked a pre-poll pact with the Apna Dal, its disgruntled ally in Uttar Pradesh, for the April-May general elections, party chief Amit Shah announced here on Friday.
The move is significant as it comes days after the party, which has a support base among the Kurmi [an other backward class] community of eastern Uttar Pradesh, threatened to quit the BJP-led National Democratic Alliance alleging that its concerns were not address by the Yogi Adityanath government.
The party had a tie-up with the BJP in 2014 Lok Sabha and 2017 assembly elections as well. In the 2014 general elections, the BJP-Apna Dal alliance had won 73 seats — BJP secured 71 seats and the latter 2 — out of 80 parliamentary constituencies in the state, which eventually helped the saffron party sweep the polls.
The party will contest in two seats in the Lok Sabha polls that begin on April 11. Apna Dal leader Anupriya Patel, Union minister and the sitting MP from Mirzapur, will seek re-election from the seat. The second seat will be decided in consultation with the BJP, Shah said.
"Anupriya will contest from Mirzapur Lok Sabha seat. We will take a call on the second seat that will go to Apna Dal," the BJP chief said.
The party contested and won two seats — Mirzapur and Pratapgarh —in the 2014 elections as well. However, Pratapgarh MP Kunwar Haribansh Singh fell out with Anupriya and formed a separate faction of the party last month.
The Apna Dal had been upset with the BJP over not getting its share in power in Uttar Pradesh after it won nine seats in the 2017 UP assembly elections.
The alliance for the upcoming Lok Sabha polls got sealed only after Shah reached out to the Patel couple, promising to address their concerns.
A senior BJP leader said that the party's central election committee will meet in Delhi on Saturday to announce the first list of candidates for the Lok Sabha elections.
"This list will mostly cover the seats where elections will be held in the first and the second phase of polling," the leader said.
Elections will be held in as many as 188 seats in the first two phases of polling on April 11 and April 18.
Personalise your news feed. Follow trending topics