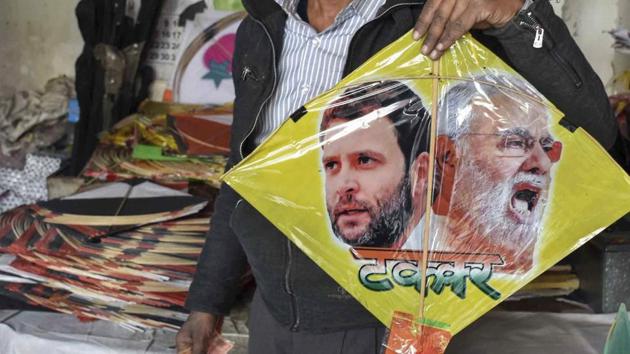 Lok Sabha elections 2019: Decoding Congress, BJP poll picks
Four weeks ahead of the first phase of polling, both national parties have declared most or half of their candidates. The BJP till Sunday afternoon announced 296 candidates (excluding one independent candidate that it supports), against 218 candidates announced by the Congress.
By Gilles Verniers
UPDATED ON MAR 25, 2019 08:46 AM IST
Four weeks ahead of the first phase of polling, both national parties have declared most or half of their candidates. The BJP till Sunday afternoon announced 296 candidates (excluding one independent candidate that it supports), against 218 candidates announced by the Congress.
The BJP's first list of candidates includes 150 re-running candidates, including 128 sitting MPs.The other 146 candidates are new, including 34 candidates in seats the BJP did not contest in 2014 (mostly in Andhra Pradesh). Contrary to expectations, only 44 MPs are not re-running, , including in five seats given to the JD(U) as part of the alliance agreement in Bihar and including one seat where no by-election took place after the incumbent, Bhola Singh, passed away. A few veterans, such as LK Advani, Bandaru Dattatreya, Karya Munda and Shanta Kumar, have been left out.
The BJP has re-nominated several sitting MPs in Bihar, Uttar Pradesh, Rajasthan, Maharashtra and Karnataka, while most candidates who ran in states where the BJP did not perform in 2014 have been changed.
The Congress, on the other hand, is fielding mostly new faces. It has so far nominated 150 new candidates, including 11 in seats it did not contest in 2014. Only 68 Congress candidates who ran in 2014 are contesting, including 22 incumbent MPs. Eight MPs are currently out, including KV Thomas and KC Venugopal in Kerala, and Mausam Noor in West Bengal. The Congress has thoroughly reshuffled its decks in Andhra Pradesh, Kerala, Maharashtra and Uttar Pradesh.
While we are yet to have complete lists, the trend so far gives relevant indication as far as women and Muslims representation is concerned.
Space for Women
Both parties have a history of paying lip service to the cause of women representation. In 2014, the BJP fielded only 38 women candidates (8.9% of all candidates), against 60 for Congress (12.9% of all candidates). So far, the BJP has given 36 tickets to women candidates (12.2%), against 26 tickets given by Congress (11.9%). The BJP is doing better than it did in 2014 and the Congress worse, if one considers their report card in 2014, either generally, or within the exact same seats.
Twelve women BJP candidates are re-running incumbents, among whom are Poonam Mahajan, president of the BJP'syouth wing;Heena Gavit, the current Lok Sabha's youngest member; Pritam Munde; and Hema Malini.
Fourteen BJP women contestants belong to political families.Five of them are contesting in Maharashtra: Poonam Mahajan is the daughter of the late Pramod Mahajan, Pritam Munde is the daughter of former BJP leader Gopinath Munde, Heena Gavit is the daughter of a prominent ex-NCP politician, Raksha Nikhil Khadse is the daughter-in-law of BJP leader Eknath Khadse, and Kanchan Rahul Kul is the wife of Rahul Kul, a turncoat MLA in Daund, a seat previously held by her mother-in-law.
In Andhra Pradesh, DK Aruna, who is to contest from Mahbubnagar, belongs to an expansive political family. Bangaru Shruthi in Nagarkurnool is the daughter of former BJP president Bangaru Laxman.
In Uttarakhand, Mala Rajya Laxmi, the incumbent MP from Tehri Garhwal, is the wife of the Maharaja of Tehri Garhwal and daughter-in-law of Manabendra Shah, who is an eight-time former MP from the same constituency. In Odisha, Anita Priyadarshni is the daughter of Ramakrushna Patnaik,a former minister in Naveen Patnaik's cabinet. In Uttar Pradesh, Sanghamitra Maurya is the daughter of Swami Prasad Maurya, current MLA from Padrauna.
In Gujarat, Poonamben Hematbhai is the daughter of a four-time MLA. In Madhya Pradesh, Himadri Singh belongs to an extensive political family that includes two MPs.
Other women contestants come with strong local political experience. In Assam, Queen Ojha is a former mayor and former Asom Gana Parishad candidate of the 2011 state elections. In Sarguja, Chhattisgarh, Renuka Singh is a former MLA and a well-known tribal leader. She served as woman and child development minister in the Raman Singh government. Also in Chhattisgarh, Gomti Sai is a tribal leader and first-time contestant. Both candidates in Trithala (Kerala) and Raiganj (Bengal) are former contestants. Other women candidates include Locket Chatterjee, a classical dancer and an actress, president of the BJP women's wing in West Bengal.
The Congress, which has pledged to pass the Women's Reservation Bill if it comes back to power, does not seem in a hurry to make gender equality a reality. Eight women candidates are re-running contestants, including Sonia Gandhi, Priya Dutt, Sushmita Dev, S Jothimani, Deepa Dasmunsi, Meenakshi Natarajan and Annu Tandon. One re-running candidate, Savitribai Phule, is a BJP turncoat.
Thirteen of them belong to political families. Sushmita Dev, president of the All India Mahila Congress, is the daughter of veteran Congress leader Santosh Mohan Dev, former MP and Cabinet minister. Her mother, Bithika Dev, is the Silchar MLA in Assam. Shruthi Devi is the daughter of former TDP Union minister V Kishore Chandra Deo. Dolly Sharma in Ghaziabad is the daughter of the local Congress chief; ManjariRahi, running in Misrikh (UP) is the daughter-in-law of former Congress MP and Union minister Ram Lal Rahi. Deeepa Dasmunsi, contesting from Raiganj is the wife of former Union minister and Congress stalwart from Bengal Priya Ranjan Dasmunsi. Shruthi Devi is the daughter of former Union minister V Kishore Chandra Deo (TDP).
Not all Congress women candidates hail froman affluent backgrounds. Remya Haridas, in Alathur, is the daughter of a daily wage labourer. Several non-dynastic candidates also possess prior political experience. Shamimol Usman is a former secretary of the All India Congress Committee. Kaisar Jahan is a former BSP MP, Omvati Devi is a former SP MP from Nagina.
In 2014, the Congress distributed 32 tickets to Muslim candidates (6.9% of all candidates), against seven for the BJP (1.2% of all candidates). So far, the Congress has fielded 18 Muslim candidates, mostly in UP (8), Andhra Pradesh (4) and West Bengal (3). The BJP, on the other hand, has given only six tickets to Muslim candidates, three in Kashmir and one in Andhra Pradesh, West Bengal and Lakshadweep each. An initial glance indicates that the BJP Muslim candidates come with far less experience and political credentials.
In J&K, Mohammad Maqbool War is a former candidate. He ran in the 2008 state election in Sopore as an independent and in the 2014 state elections in Langate on a BJP ticket. In these elections, he finished 22nd and 10th, with 93 and 523 votes respectively. Sofi Youssuf is a four-time BJP candidate in state elections from Anantnag. He ended in the fourth position on three occasions.He also ran in the 2004 general elections, again in Anantnag, finishing fourth with less than 5,000 votes. Khalid Jahangir is a journalist and political strategist, appointed as a local BJP spokesperson in 2014. This is his first election. Jatothu Hussain Naik is a former BJP MLA candidate in Mahbubabad in 2018, where he finished third. In Lakshadweep, the BJP appointed Abduyl Khader Haji as chief of the local party unit in 2017. In West Bengal however, Mafuja Khatun is a former MLA, and a Communist Party of India (Marxist) turncoat.
By comparison, the Congress's Muslim candidates have more experience. Seven of them belong to prominent political families, such as Imran Masood, Zafar Ali Naqvi, Saleem Iqbal Sherwani and Salman Khursheed. In Bijnor, the Congress is fielding Naseemuddin Siddiqui, former number two in Mayawati's Cabinet. Kaisar Jahan is also a former BSP UP minister.
In West Bengal, Abu Hasem Khan Chowdhury, in Maldaha Dakshin,is the only incumbent Muslim MP to re-run . In Maldaha Uttar, the incumbent MP Mausam Noor, who has defected to Trinamool Congress,has been replaced by Isha Khan Chowdhury, the current MLA from Sujapur and member of a prominent political family. Abu Hena, candidate in Murshidabad, is a five-time MLA from Lalgola and a former West Bengal minister.In the South, the Congress is fielding Sheikh Mastan Vali, current MLA from Guntur East. In Alapuzha, Kerala, the incumbent MP KC Venugopal has been replaced by Shanimol Usman, a former AICC Secretary. Only Mohd Shahjahan Basha, in Rajampet, is a newcomer.
This is still a preliminary picture of the candidature landscape. What can be said so far is that the BJP, contrary to claims made, largely clings onto its sitting MPs, while reshuffling candidates in states where it hopes to expand. The Congress is fielding a larger proportion of fresh faces, which you would expect from a party who was soundly defeated in the previous election. So far, the situation of women representation is disappointing and both parties are mostly going for conventional candidates. The reality remains that most candidates (and many representatives) are expendable to parties, which does not encourage them to invest in their legislative job when they get elected.
(Gilles Verniers is Assistant Professor of Political Science and Co-Director, Trivedi Centre for Political Data, Ashoka University. This is the first of a two-part data journalism series looking at trends in the 2019 candidatures. The second part will come after the declaration of all candidates.)
Close