Trans community vote in one voice: 'We exist, treat us as equals'
Wearing a trendy round pair of sunglasses with mustard colour top tucked in her printed pants, Nisha was attending a transgender community meeting in Kashmere gate on Friday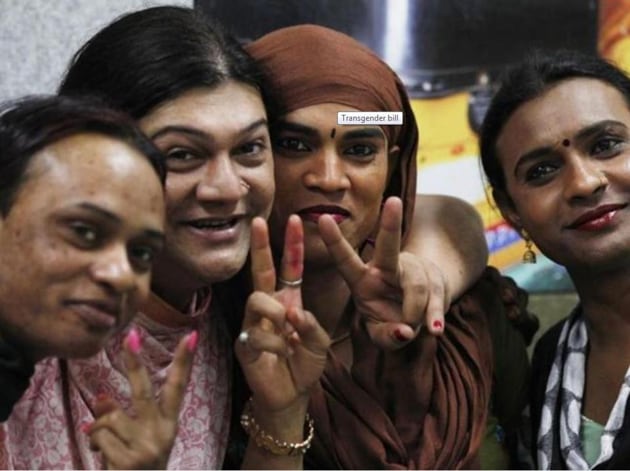 Updated on Apr 29, 2019 09:20 AM IST
On May 12, when 24-year-old transgender woman Nisha votes in the Lok Sabha election, "equal treatment" for her community will be on top of her mind.
Wearing a trendy round pair of sunglasses with mustard colour top tucked in her printed pants, Nisha was attending a transgender community meeting in Kashmere gate on Friday.
"Politicians should remember that the society does not comprise only of male and female persons. We too exist. We need equal opportunities in education and employment and equal treatment in society," she said.
Having left her home in Uttar Pradesh's Meerut city in 2012, she lives with a toli (a group from the hijra community who perform at ceremonies) in Mangolpuri since .
"Just like any other young good looking woman I too can dream of walking the ramps and hit the silver screen. But, being a transgender it's very difficult to even dream. Will any politician promise us equal opportunity? Can we dream at least?" said the modelling aspirant.
This is the first general election wherein transgender persons are casting their votes under their chosen gender identity after the Supreme Court had declared them as the "third gender" in 2014. Around 669 transgenders will exercise their franchise in Delhi, compared to 78,49,947 male and 64,21,283 female voters.
However, many transgenders are still forced to cast their votes under the male or female category after failing to rectify their gender in the documents.
For instance, 18-year-old Dummy will cast her vote as male as she could not change her gender in the documents . "It's so disappointing that I cannot vote with the transgender identity. I still have my previous name in all my documents," said Dummy. When asked what will she expect from the new government she said, "Recognition".
Narrating the story behind her name, she said, "Dummy jaise koi murti (like a mannequin). When I had joined an NGO for transgender — SPACE— at Kashmere Gate, I was very shy. I was scared and quiet most of the time because I had to leave my home at the age of 15. People started to call me 'dummy'."
Anjan Joshi, of NGO SPACE, said that most of the transgender voters are still male or female in their documents. "There is no proper data available on transgender voters. Most of them are still male or female on paper. The change of gender and name in documents is a very lengthy task that is depriving majority of transgenders from mainstream education as well. The strength of these voters looks still very less and that is why the politicians neglect them in their manifesto and pre-poll promises," said Joshi.
Special chief electoral officer Satnam Singh said that the transgender do not require any different documents to register as voters. "Anyone who fills the form-6 can register as a voter. One needs to submit a date of birth certificate and residence proof to fill that. There is no requirement of gender proof for registering as voter. A transgender can easily change her/his gender in form 8-A of election commission online," he said. However, they cannot get their name changed on the form.
The Delhi election office has also organised a special drive to encourage transgenders to enrol as voters and exercise their franchise.
Joshi, however, said that the process is not as easy.
"Most of transgenders who go to help centres to register as voters are being asked to present documents such as address proof, and sex certification by a government hospital that takes two to three years," she said.
Singh, however, said the election commission's help centres also accepts letters from the recognised NGOs and the "heads of transgender tolis" to change the gender in voter list.
A 56-year-old transgender guru, who heads a toli of around 24 other community members in northeast Delhi's Kabir Nagar said, "I have been voting as a man since forever. Do I even look like a man? It's just I do not have my gender changed in my documents. I do not know about the online option."
Madhu and Janasheen, who earn their livelihood by dancing in ceremonies, have managed to get their gender changed on adhaar cards. They will be voting as third gender on May 12. "How does it matter even if we vote as transgender? Politicians promise us separate public toilets, free passes in public transports, shelter homes and employment before every elections. But everybody forgets after winning the elections. Though these cards give us confidence, they are not helping us earn," said Janasheen, 30.
Nodding her head in affirmation, Madhu, 31, said "Forget about everything at least the politicians can ensure us equal treatment in hospitals. Doctors look at us like some "aliens" whenever we go for treatment."
Aliya, another transgender who begs at a streetlight in Dharampuri, said, "There are shelter homes for animals but not for us. It clearly shows our importance in the eyes of those running the government."
Close Story