Amit Shah calculated fractions of second-preference votes for RS poll win in UP: Sources
The astute planning ensured victory for Anil Kumar Agarwal, the ninth candidate, although BJP had numbers only for eight candidates initially.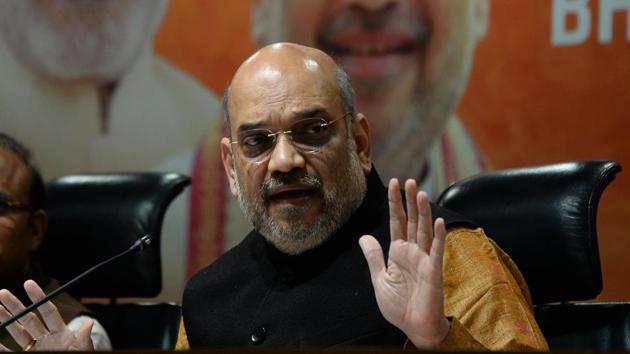 Updated on Mar 26, 2018 03:01 PM IST
Bharatiya Janata Party (BJP) president Amit Shah calculated even the fractions of second-preference votes, in addition to the cross-voting of opposition members, to script success for the party's ninth candidate in the Rajya Sabha elections from Uttar Pradesh, according to party insiders.
The astute planning ensured victory for Anil Kumar Agarwal, the ninth candidate, although BJP had numbers only for eight candidates initially.
The elections to the upper house of Parliament are based on proportional representation and single transferable vote, which ensures surplus votes of winners are transferred to the remaining candidates as per their second preferences.
Two days before the high-stakes elections, the BJP chief called party leaders to Delhi and explained using "a rule book for returning officers" the concept of "fractional loss", as per which losses are minimised by maximising the value of first and second preference votes, those privy to the meeting said.
This was why after the midnight brainstorming session in Delhi, the party decided to allot 39 votes each — including one each from ally Apna Dal — to eight of its nine Rajya Sabha candidates from UP, although a candidate required only 36.19 for victory.
This meant definite victory for the eight, whose surplus of 2.81 each was left for the ninth candidate.
Agarwal had managed to get 16 first preference votes, thanks to cross voting by four opposition lawmakers — SP MLA Nitin Agrawal, Nishad party's Vijay Mishra, independent candidate Amanmani Tripathi and BSP MLA Anil Singh — and three from allies, Apna Dal and Suheldev Bharatiya Samaj Party (SBSP).
Apna Dal's nine members cast one vote each for the nine candidates, whereas the other ally, SBSP's members gave two votes for BJP and cross voted the other two for rival candidate.
Despite the cross voting by two of the four SBSP MLAs, BJP was confident that the fate of its ninth candidate would be decided by the second preference votes — a point that BJP leader Vijay Bahadur Pathak revealed midway through the poll process.
When the second-preference votes were counted, all the surplus — 2.81 — of the eight BJP winners went to Agarwal, ensuring he got 22.4 votes, which when added to the first 16, resulted in 38.4, higher than 36.19, the victory mark.
"However, till 8am on Friday, none of the MLAs knew to whom they were allotted," a party leader said.
While one BJP team got busy getting its 'fraction loss' right, the other team kept an eye on opposition numbers.
"Contrary to the opposition charge of horse trading, the fact is that all of them admitted that they voted for us due to the clean image of chief minister Yogi Adityanath whom they referred to as Maharajji," said Mrityunjay Kumar, Adityanath's advisor.
JPS Rathore, the party's Rajya Sabha in-charge, admitted that the fraction loss aspect that Shah had emphasised was crucial in the Rajya Sabha election and added that the opposition was found lacking in their strategy in response to Shah's planning.
State BJP chief Mahendra Nath Pandey, general secretary (organisation) Sunil Bansal, general secretary Vijay Bahadur Pathak, JPS Rathore and Bhupendra Yadav were among those who attended the meeting.
The BJP MLAs attended three training sessions to ensure their votes did not go waste. Party leaders claimed that at least two additional votes that could have come to them were declared invalid because of technical errors.
Another independent candidate Raja Bhaiya was also in touch with Adityanath. Two opposition MLAs in jail — Mukhtar Ansari and Hari Om — were stopped by court from casting their vote, further hampering the opposition.
However, the BJP could not get its fractions right in Jharkhand, where its second candidate Pradeep Kumar Sonthalia lost to Congress's Dhiraj Prasad Sahu by 0.01 votes against the magic figure of 26.
BJP's other candidate Sameer Oraon crossed through comfortably with 27 votes.
(The value of one Rajya Sabha vote is 100. The values of votes mentioned in the report have been divided by 100.)
Close Story