HT Forum: 'Include gender education in curriculum'
Published on May 09, 2017 12:54 PM IST
Parents should be made aware of child sexual abuse so that they are vigilant and take complaints of children seriously, say principals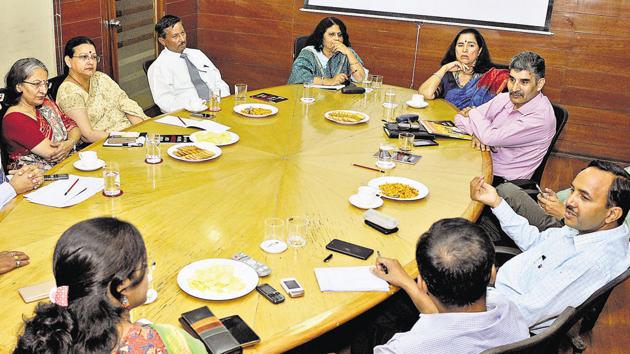 Lucknow, Hindustan Times |
, Lucknow
Team HT
Child sexual abuse is rampant, but the issue is not discussed much. There should be awareness about it among parents so that they are vigilant and take complaints of children seriously.
That's what principals of various schools said during a forum on child sexual abuse organised at Hindustan Times (Lucknow) office on Monday. It was part of a campaign on child sexual abuse initiated by Hindustan Times as part of the HT Woman Awards for the year.
The principals unanimously emphasised on introducing gender education as part of school curriculum and training teachers so that they are able to deal with such problems of children.
"Even if parents come to know of sexual abuse with their children, they prefer to keep mum and do not take the case to the police fearing harm to their family's 'izzat' (honour). This needs to be taken out of their minds," said Urvashi Sahni, founder and chief executive, Study Hall Educational foundation.
Sharing her experiences, Sahni said 'code of silence' is very common in middle class families and in most cases even mothers find themselves helpless to raise a voice against the abuse that their child undergoes.
Mukesh Kumar Singh, district inspector of schools (DIoS), laid stress on building confidence among children so that they do not hesitate in sharing their problems. "We always tend to discipline our children. This often creates communication gap between teachers, parents and children and kids refrain from sharing their problems," said Singh.
Quoting the findings of a survey in school, Promini Chopra, principal, Seth MR Jaipuria said, "When we asked children about two adults whom they trust the most, the answer is father and teacher. It was surprising for us to note that mothers don't feature in the list of children's confidants."
The panelists said each child is vulnerable to abuse. Among the list of perpetrators are auto/van drivers, domestic servants, tutors apart from family members/relatives and neighbours.
"A child of Class 4 in our school reported how he was made to watch porn videos by his van driver. Sometimes the abuse may not physically harm children. But many adults draw pleasure in watching the reactions of children to such acts," said Carlyle McFarland, principal, La Martiniere College.
The principals said initially they started discussing 'good & bad touch' and problems of sexuality with students of senior classes. But the sessions were started for younger students as well.
"Senior children know about sexuality. But the curious lot comes from classes 6, 7, 8. They need to be trained about the right and wrong so that they don't fall victim to sexual abuse," said Peter Fanthome, principal, St Teresa's Day School.
"We now make children of kindergarten aware of good and bad touch," said Promini Chopra.
When it comes to speaking out, children are generally hesitant. But they open up gradually. "When we started talking about the issue, the girls were hesitant. But one of them stood up and narrated an incident saying that it happened to one of her friends. We could make out that she was narrating her own tale," said Anushi Dwivedi, teacher, Loreto Convent.
Quoting a 2007 survey, Rajiv Tuli, manager, Modern Academy said, "The survey findings indicated that about 50% children have been abused, of which 70% are abused by trusted people. The abuse was equal among boys and girls, said the survey."
Tuli cited poverty and caste system as the main reasons behind the growing sexual abuse of children.
RP Mishra, state secretary and spokesperson of UP Madyamik Shikshak Sangh, said the problems could be minimised if parents have more time for children. "A lot of children get exposed to porn only when they are alone and have no one around."
JC Gupta, principal, Jawahar Navodaya Vidyalaya said the issue needs to be taken up like any other national campaign.