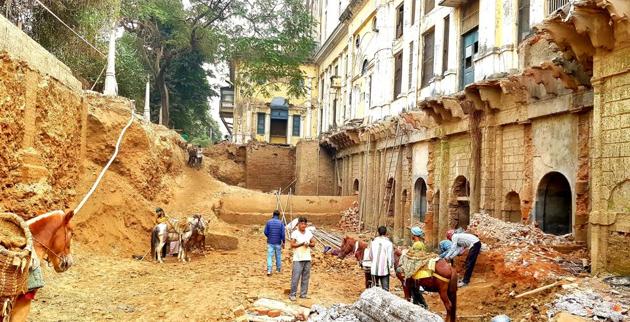 Lucknow: Now, 'water gateway' to Chattar Manzil unearthed
Slice of history: Nawabs probably used fish-shaped boats for transport in 17th century, says historian
UPDATED ON NOV 20, 2018 03:09 PM IST
The ongoing excavation work at Chattar Manzil reached another level on Monday as workers unearthed a 'water gateway' leading to this iconic structure.
The UP Rajkiya Nirman Nigam (UPRNN), the construction agency engaged in the restoration of the structure, termed it one of the major discoveries so far.
Officials said workers engaged in the excavation stumbled upon a 'cylindrical structure' that was lying buried for years.
On clearing the debris, it was found that the structure made of lakhauri bricks was a tunnel, which connects the over 200-year-old Chattar Manzil to river Gomti, flowing just a few metres away.
"This tunnel is around nine metres beneath the ground," said Nitin Kohli, the contractor supervising the excavation work.
The task is being performed under the supervision of a high-powered committee comprising Archaeological Survey of India (ASI), Abdul Kalam Technical University (AKTU), State Archaeology Department and officials of the civil engineering department, IIT BHU.
Experts said once they are done with the excavation work, they would explore details like the total length of the tunnel and where it leads to.
Officials said the discovery of the tunnel would unravel another chapter from the history of Chattar Manzil and Kothi Farhatbaksh.
The tunnel would also demystify myths and folklore about the Nawabs using water boats to sail within the palace complex, they added.
However, historians have a different take on this tunnel.
PC Sarkar, a noted historian, said: "The structure seems more of a water gate than a tunnel."
He said some old timers who have been to Kothi Farhatbaksh (Lakhi Pera), residence of major general Claude Martin, had mentioned the structural uniqueness of the twin structures. "In fact, it is on record that the structures were easily approachable from the northern (river Gomti) side by boat also," added Sarkar.
"After Nawab Saadat Ali Khan bought the fortress-like structure, it was remodelled into a palace-like structure. However, the river side entrance remained the principal one, with the Nawab adding pavilions in the middle of the river itself," he said.
He said Gomti was the main channel of transport – the nawabs used barges (boats) of various shapes and sizes, some looking like fishes, crocodiles, for transport in the 17th century. The famous 'More Pankh' boats were in vogue during that era, said Sarkar.
He said 'water gates' may sound unique now, but they were common in the olden days.
The Lucknow Residency too had a 'water gate'. But it became defunct when Gomti changed its course and more means of road transport came up, he said.
Close