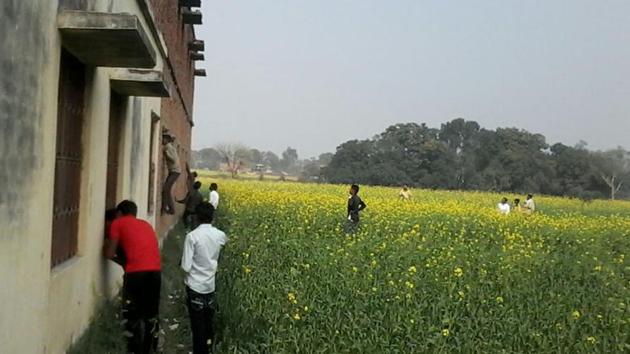 PM Modi brings 'mass copying' issue into political discourse
On Friday at his rally in Gonda, Prime Minister Narendra Modi chose to forcefully raise the issue of declining academic standards in UP. 
PUBLISHED ON FEB 27, 2017 03:27 PM IST
Last year, 'Gheesa', the protagonist of Munshi Premchand's short story 'Kafan' (Shroud), had helped highlight mass copying in UP.
That was because several postgraduate Hindi students of Agra University were found to have written identical answers while describing Gheesa's character.
Mass copying, especially in UP Board examinations for class 10 and 12 in several UP districts, has been the state's worst kept secret.
Barring the state's then education minister and present union home minister Rajnath Singh, who had introduced an anti-copying ordinance in 1991-92, politicians have largely preferred to ignore the menace possibly, because the anti-copying act was cited among the reasons for BJP's loss in the 1993 UP polls.
On Friday, Prime Minister Narendra Modi chose to forcefully raise the issue of declining academic standards in UP from his rally in Gonda where Modi said "contracts for mass copying are taken." Modi's nearly 10 minute focus on mass copying in UP impressed the academic fraternity.
"I would say that UP's decline has largely been due to falling academic standards and the increasing influence of the copying mafia. The irony is that several top politicians from UP from Mulayam Singh Yadav to Mayawati had previously been teachers. So Modi's focus is timely and it will have our complete support," said professor Manoj Dixit of the political science department at Lucknow University.
After being repealed in 1994, the anti-copying act that earlier even provided for jail to students caught copying, was later reintroduced in a milder form but didn't have much of an impact.
In 2014, as principal secretary (secondary education) Surya Pratap Singh, who has now retired, tried to free the UP Board examinations from the influence of copying mafia. He had launched a 'nakal roko abhiyan' (stop mass copying initiative) under which he put several exam centres on the black list. Singh was transferred within a month-anda-half of taking over.
He had by then scrapped several exam centres, put many of them on the black list and cancelled registration of several students.
"Several east UP districts from Ballia to Ghazipur and Gonda and Hardoi are notorious for this. The PM's focus on the issue is music to our ears," said Professor Anil Kumar Singh from Banaras Hindu University.
Interestingly, BJP MP Brij Bhushan Sharan Singh who owns several colleges in Gonda and adjacent districts, shared the stage with Modi in Gonda.
Like the BJP MP, several politicians own colleges in UP.
"In a way, the PM also sounded a warning to all such politicians who turn a blind eye to the menace. Not since Rajnath Singh has any politician mustered courage to take up this issue," said Athar Siddiqui from the Centre of Objective Research and Development. Political analysts feel that Modi's talk against mass copying also made for good politics.
"Mulayam Singh Yadav was against putting pressure on the students. He was quick to repeal the anti-copying act that the then BJP government had introduced. But Mulayam's son Akhilesh had tried to showcase his thrust on merit by announcing laptops for meritorious students. Modi, who mentioned Akhilesh from the rally stage, has tried to suggest that despite change of power, policies haven't really changed in the party," said SK Dwivedi, a political expert.
Read more: Akhilesh, Mayawati hit out at Modi over 'copying', 'dreaming of harming' UP
Close