Priyanka Gandhi Vadra begins Congress' Uttar Pradesh campaign on Ganga
During her three-day visit, Priyanka Gandhi will cover a distance of 100 kilometres by boat in Ganga from Allahabad to Varanasi — the parliamentary constituency of Prime Minister Narendra Modi — hopping from one temple to another.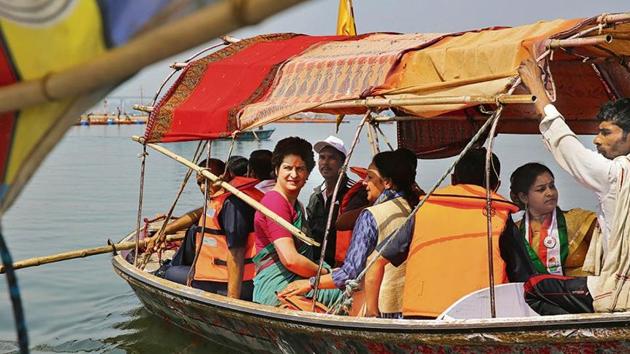 Published on Mar 19, 2019 02:49 AM IST
Congress general secretary Priyanka Gandhi Vadra on Monday kicked off her party's campaign for the Lok Sabha elections in Uttar Pradesh in Allahabad by lashing out at the Narendra Modi government, saying the Bharatiya Janata Party (BJP) was run by four or five people who think they can do as they please.
During her three-day visit, Priyanka Gandhi will cover a distance of 100 kilometres by boat in Ganga from Allahabad to Varanasi — the parliamentary constituency of Prime Minister Narendra Modi — hopping from one temple to another.
Priyanka Gandhi arrived in Allahabad on Sunday night and spent the night at her family home, the Swaraj Bhawan, where her grandmother and former prime minister Indira Gandhi was born. In a tweet, she recalled her memories associated with Swaraj Bhawan.
"Sitting in the courtyard of Swaraj Bhawan, I can see the room where my grandmother [Indira Gandhi] was born. While putting me to sleep at night, she used to tell stories of Joan of Arc. Her words reverberate even today. She used to say — become fearless and everything will be alright," the Congress leader wrote in Hindi.
Priyanka Gandhi left for the Sangam — a confluence of rivers Ganga, Yamuna and the mythical Saraswati — on Monday morning where she offered prayers.
Calling the BJP a "jumla sarkar", she said the Congress government in Madhya Pradesh exempted farmer loans, as promised, within 10 days of coming to
power and did so without using "jumlas".
She appealed to the people to vote for a government that would listen to them and asked whether they would vote for a government whose leader had promised ₹15 lakh in each bank account, jobs for 2 crore unemployed persons and never deliver those promises, or for a government which addressed the woes of the common man.
"The decision you will take in the ensuing elections will decide your children's future. Understand this carefully. I could have stayed back at home. For many years, I had been sitting at home. Why I have come out today? I have come out because the country is in danger. The Constitution of India is in danger."
"You have seen how the Congress party worked when it was in power at the Centre... The situation that we have today, was not there in the past 45 years. In the past 45 years, there was never a time when such fewer employment opportunities were there," she said.
The 47-year-old Congress general secretary incharge of eastern Uttar Pradesh also paid obeisance at the Akshay Vat, a sacred fig tree, and Saraswati Koop, the well under which the mythical Saraswati river is said to flow, on the banks of the Sangam, before embarking on her three-day Ganga Yatra.
A large number of Congress workers, including women, had gathered since early morning to catch a glimpse of Priyanka Gandhi, shouting slogans like "Priyanka nahi yeh andhi hain, Doosri Indira Gandhi hain (She is not just Priyanka but a storm, she is the second Indira Gandhi)" and "UP mein badlav ki andhi, Priyanka Gandhi Priyanka Gandhi (Storm of change in UP, Priyanka Gandhi Priyanka Gandhi)".
Priyanka Gandhi, who has been addressing various party events for some time now in Uttar Pradesh where 80 Lok Sabha seats are at stake, said that she was unhappy to see how politicians are made to stand on the stage, and the people are forced to sit on the floor.
"Wherever I am going, I am saying that this is a very bad habit-you make a very huge stage, make the politician stand on it and you all sit on the floor. Change this habit. In a democracy, it is your right to ask for the solution to your problems," she said.
Congress state unit chief Raj Babbar, national spokesperson Akhilesh Pratap Singh and Ganga Yatra coordinator and party MLA from Rampur Khas Aradhana Mishra were also present.
Babbar said Priyanka Gandhi had come to the Sangam to seek the blessings of Ganga Maiyya (Mother Ganga) and drive home the point that like the holy river, the Congress wanted to embrace all.
Priyanka Gandhi will reach Prime Minister Narendra Modi's parliamentary seat of Varanasi on Wednesday. She will visit the residence of former prime minister Lal Bahadur Shastri in Ramnagar area and offer prayers at the Kashi Vishwanath temple. She will also take part in a Holi programme and meet Congress workers at the party's district office before getting back to New Delhi.
Polling will be held in seven phases in Uttar Pradesh from April 11 to May 19. Results will be announced on May 23.
(with agency inputs)
Close Story