Video showing IPS officer in UP pledging 'early construction of Ram temple' stirs row
Director general (home guards) Surya Kumar Shukla, who is seen taking the pledge to construct the Ram temple in Ayodhya, has been asked for an explanation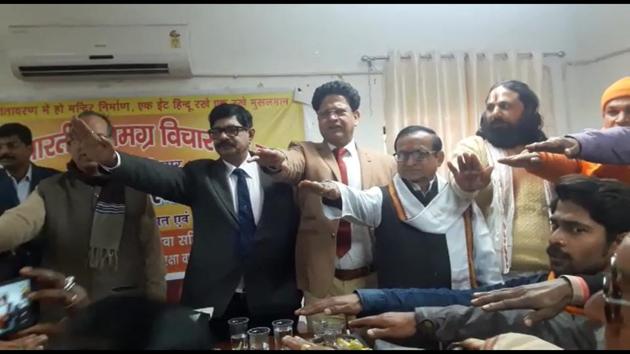 Updated on Feb 03, 2018 05:27 AM IST
A senior Uttar Pradesh IPS officer has landed in controversy for allegedly taking a pledge at an event for 'the early construction of Ram temple' in Ayodhya.
The video shows the director general (home guards), Surya Kumar Shukla, a 1982 batch officer, allegedly taking a pledge with others for the "early construction of Ram temple in Ayodhya" on January 28. Shukla was attending an event organised by Akhil Bharatiya Samagra Vichar Manch at a private event held on the Lucknow University campus. The video of the pledge has surfaced and is being shared widely on social media.
Shukla and others, in unison, are seen saying in the video: "Hum sab Ram-bhakt, aaj ke karyakram ke dauraan, yeh sankalp letey hain, ki jald se jald Ram mandir ka bhavya nirman ho (We all Ram-devotees, during this event, pledge for early construction of the Ram temple)".
The state home department has asked the police officer, who is due to retire next year, for an explanation.
Shukla admitted to participating in the event and taking the pledge, but said his words were misinterpreted.
"It was an 'intellectual gathering' where people from Hindu and Muslim communities were present and the Muslims there favoured peaceful and early solution of the problem. When they floated an idea, that a solution could be to build the Ram Temple at the Ram Janmbhoomi, and a mosque little away, then all the present welcomed it. I told them that any such solution will be in sync with the high court direction on the long-standing problem. The pledge we took was for the peaceful and harmonious solution of the problem," Shukla said over phone.
"There has been a misinterpretation. I had clearly said Ram Mandir issue is sub-judice, it won't be appropriate to speak on it. The pledge was for communal harmony and not Ram Mandir," he was later quoted by ANI as saying.
The event was held in the auditorium of the department of public administration, Lucknow University, and was titled 'Ram Mandir nirmaan: Samasya evam samadhaan (Ram temple construction: Problem and solution).
The partners in the event were Rashtriya Muslim Manch, Bhagwa Raksha Vahini, Sanatan Mahasabha, Bajrangbali Samajik Seva Samiti, Karyasevak Muslim Manch and Bhrashtachar Mukti Andolan.
Close Story