Ban on liquor may return in Mizoram after assembly polls as parties strive to woo voters
In 2015, the state's Congress government lifted a ban on liquor imposed since 1997. But there is opposition to lifting of the ban by some regional parties and church bodies in the state.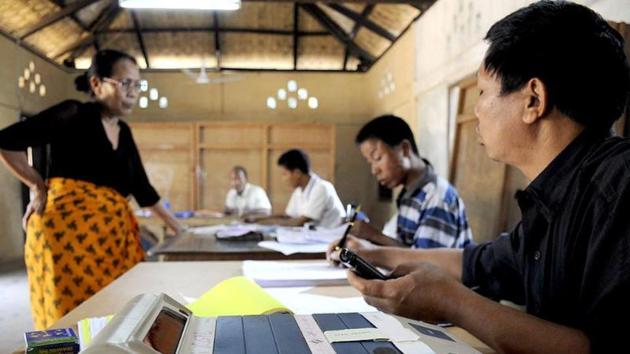 Updated on Nov 16, 2018 07:48 PM IST
At the end of his work day, L Sailo likes to unwind with a few pegs of whiskey. Despite a limit imposed on the purchase of alcohol, the 26-year-old who operates a two-wheeler taxi in Mizoram's capital, is able to "manage" on most days.
But that could change once the results of November 28 Mizoram assembly polls are announced. A change in government could bring back old times, when the state was under prohibition.
"I hope the ban on liquor is not re-imposed. It would just lead to smuggling of liquor into Mizoram from neighbouring states and we would have to pay exorbitant amounts to procure them illegally," said Sailo.
In 2015, the state's Congress government lifted a ban on liquor imposed since 1997 and allowed opening of bars, liquor shops and started issuing cards to those above 21 who were allowed to purchase alcohol, within limits.
At present the state with a population of 1.1 million has around 30 liquor shops and two bars. Those who have liquor cards can buy 6 bottles of liquor and 12 bottles of beer every month. One needs to pay ₹500 as registration fees to get a card and an annual renewal amount of ₹300.
Chief Minister Lal Thanhawla, who has been at the helm since 2008, feels lifting of the ban has not only improved the state's revenue earnings but has brought down alcohol-related deaths.
"Prior to lifting of prohibition there was a lot of deaths due to drinking of spurious liquor as quality alcohol was not available," the CM said while adding the Congress would continue with the present policy.
But there's opposition to lifting of the ban. Two regional parties, Mizo National Front (MNF) and Zoram Peoples' Movement (ZPM), vehemently oppose the sale of liquor and have promised to re-impose the ban if they come to power.
"More than 500 policemen and nearly 6,000 civilians have died in Mizoram due to consumption of liquor in the past three years. There's a sudden rise in the number of widows. We will ban liquor," said former chief minister and MNF president Zoramthanga.
A study sponsored by the ruling government on impact of lifting of ban on liquor found 19% of all deaths recorded in four large hospitals in Aizawl during the financial year 2016-17, were alcohol related.
The powerful church bodies in Christian-majority Mizoram also want sale of liquor to be banned.
"Lifting of the ban has become a big problem for Mizo society. Number of alcohol-related deaths went up, people became drunkards and indulged in anti-social activities," said Rev. R. Lalbiakmawia, general secretary of Mizoram People's Forum, a church-sponsored election watchdog.
"We want the government to discontinue sale of liquor and ensure enforcement of the ban strictly with proper coordination among the NGOs, the church bodies and government authorities," he added.
Close Story