Down on Burgundy? Try these 9 lesser-known French wines
Thanks to all the hype about wine from Bordeaux and Burgundy, it's easy to miss out on plenty of good French wine. We offer a selection of 9 lesser-known wines that you must try.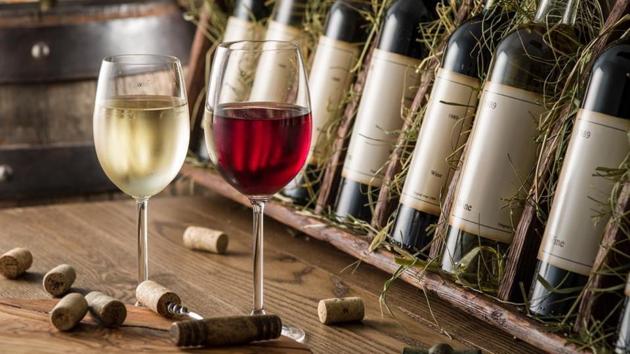 Updated on Apr 16, 2018 08:58 AM IST
You love Burgundy, but oh, those prices. You can't drink Champagne all the time, and Bordeaux is just not what you're craving. So? There's plenty of other French wine you shouldn't miss out on. I'd argue the country is still the world's No. 1 spot for the combination of wine quality, variety, and value, though Italy comes close.
Sadly, until the beginning of this decade, US imports of French wine had long been in decline. But I was surprised to learn that in 2017, French wine shipments to the US rose by double digits in percentage terms, according to recently released figures from Business France, a government agency.
Part of the big jump is rosé from Provence, up 46% in 2017. It's become America's "summer water," and apparently there's no end to our clamour for this pink stuff. It's also because the younger generation of vignerons is energising regions all over France, from Beaujolais to Muscadet to Mâcon, where top Burgundy producers have been investing in vineyards.
All was looking rosy (forgive me), and then came the 2017 harvest, which brought frost in Bordeaux, hail in Beaujolais, and drought in the Rhône Valley, Provence, and the Languedoc. Wine production was down almost 20% from 2016, when already it had reached a 30-year historical low. Luckily, the 2014s and 2015s are still on retail shelves. Hint: Before prices tick up, stock up! And check out the latest under-the-radar regions getting buzz.
Saumur
Enthusiastic sommeliers and hip wine bars are behind the new popularity of selections from this area of the Loire Valley, which spreads out from the fairy-tale-perfect town of Saumur. Both see them as food-friendly choices — and the prices are right. The cabernet-franc-based reds, with pure fruit and savory flavors, have long been the pour in Parisian bistros, and top whites made from chenin blanc are serious alternatives to Burgundy. While many wine lovers know Chinon and Vouvray, less-familiar Saumur is a hotbed of names to know now.
Wines to try:
2015 Domaine Guiberteau Saumur Blanc:The reds and whites from this estate are found on cutting-edge New York wine lists and are also a French favourite of Napa winemakers. The entry-level chenin blanc has dazzling purity and lightness, with savoury and mineral flavours and a deep, mouthwatering character that makes it a go-to with seafood.
2012 Clos Rougeard Saumur-Champigny: Every three-star restaurant in Europe hustles to get a tiny allocation from this legendary estate that makes several cabernet franc cuvées. This one is subtle, spicy, silky, and utterly elegant. Last June the property was snapped up by billionaire brothers Martin and Olivier Bouygues, who own Bordeaux star Château Montrose.
Roussillon
Exciting changes are happening in the south of France, where this small region hugs the border with Spain. Until 2016, Languedoc-Roussillon was one administrative region, but the two areas are historically, culturally, and topographically distinct. Roussillon, once part of Catalonia, has its own appellations and is now thought of a separate region. It originally became famous for its sweet reds and whites, but in the 1980s, winemakers began creating stunning dry wines from rare local varieties.
Wine to try:
2014 Domaine Gauby Vieilles Vignes Blan:Gérard Gauby was the pioneer who restored decades-old vines on his family property and planted trees to shelter them from the hot afternoon sun and powerful winds. This brilliant rich white, with honeysuckle aromas and citrusy flavours, is made from macabeo, grenache blanc, and grenache gris.
Saint-Joseph
For great syrah, people turn to the northern Rhône Valley's fashionable appellations Côte-Rôtie, Hermitage, and Cornas. These wildly expensive wines need decades of aging before they're ready to drink, though. The Rhône's new secret spot is sprawling Saint-Joseph, whose hillside vineyards have attracted ambitious winemakers.
Wines to try:
2014 Domaine Alain Graillot Saint-Joseph Rouge:This producer in Crozes-Hermitage expanded into Saint-Joseph and makes a red there that's delicious right on release. It has rich, smoky, black olive, and licorice aromas, with juicy dark fruit and peppery flavours.
2015 Domaine Faury Saint-Joseph Blanc:This luscious, succulent white blend made from marsanne and roussanne grapes is from a top vintage in the Rhône. It has wonderfully layered aromas of smoke and white flowers, with exuberant ripe peach and spice flavours.
Bandol
This region in Provence, nestled around the fishing village of the same name east of Marseille, is a magnet for rosé lovers. But Bandol's less well-known reds, which are powerful and sophisticated, are the real treat. The hilly terroir and hot Mediterranean climate are ideal for the key grape, mourvèdre.
Wines to try:
2013 Château de Pibarnon Bandol:The château has one of Bandol's most beautiful vineyards, in an amphitheatre of rustic stone terraces overlooking the Mediterranean. This bold red has tons of depth and spice, with wonderful flavours of leather, earth, and herbs such as thyme and rosemary. What to serve it with? Think red meat on the grill.
2012 Château Pradeaux Bandol:The Portalis family has owned this estate since before the French Revolution. This lush, round red from old vines of mourvèdre has subtle, wild complexity with notes of licorice, leather, olives, flowers, and tobacco.
Languedoc
France's biggest wine region hosts a wide variety of grapes and smaller appellations, like Pic Saint-Loup and Faugères, which are attracting attention. Since 2009, imports from Languedoc to the US have grown more than 300% by volume, 26% in 2017 alone. Maybe that's partly because 30% of all France's organic viticulture is here, but it's also the land of serious values. Red and rosé wines have the leading edge.
Wines to try:
2014 Château Puech-Haut La Closerie du Pic Rouge Pic St. Loup: Pic Saint-Loup is one of the coolest parts of the Languedoc, and this perfumed red, a blend of grenache and syrah, has mouth-filling richness, a voluptuous texture, and aromas of violets and licorice.
2013 Domaine Leon Barral Faugères: One of the champions of the biodynamic movement in France, Didier Barral makes powerful, rich, complex wines. This entry-level red is a blend of carignan, grenache, and cinsault from very old vines.
Follow @htlifeandstyle for more
Close Story
Personalise your news feed. Follow trending topics