The Taste with Vir Sanghvi: The cat's finally out of the (Hermes, Louis Vuitton) bag
In this week's column, Vir Sanghvi talks about the business of luxury bags, the stories behind them, and the most iconic people to have carried them on their shoulders.
more-lifestyle
Updated: Sep 06, 2017 09:10 IST
It is one of the most famous stories in fashion. In 1984, on the short Air France flight from Paris to London, the actor and singer Jane Birkin (British-born but she lives in France where she is much more famous) pulled her diary out of her handbag and all her papers fell to the floor of the aircraft.
By some co-incidence Jean-Louis Dumas, the head of Hermes, was on the same plane. As Dumas helped her gather her papers, she complained to him about her bag. It was made by Hermes, she said, but it was no good when it came to fitting things in.
"Let me take yours and see what we can do with it," Dumas told her.
A month or so later, Hermes returned the bag. Dumas had made his artisans stitch a pocket inside. But he had also paid heed to her complaint about how Hermes bags were not designed to accommodate very much and how things always fell out.
Shortly after her bag had been returned to her, Birkin received another package from Hermes. It was a new bag. In design terms, it was an adaptation of an existing Hermes bag, the Haut À Courroies, but Dumas's redesign had made it look like a completely new bag. "That should keep all your things safe without them falling out," he told her when she called to thank him.
"We are going to sell the bag," he added. "But because you gave me the idea, we will call it the Birkin."
And so, the world's most desirable handbag was born.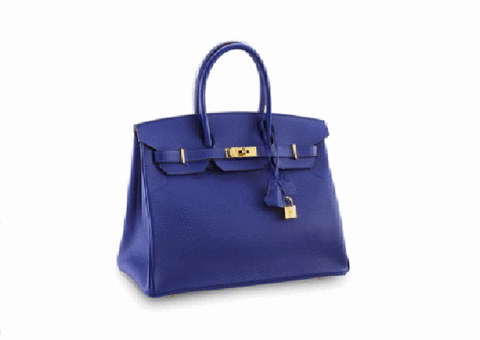 It wasn't the first time that Hermes had named a bag after a real person. In the 1950s, when the actress Grace Kelly married Prince Rainier of Monaco, she became the most photographed woman in the world. She struggled to maintain her privacy in the face of paparazzi attention but it was a losing battle. When she got pregnant and developed a little baby bump, she tried to hide it by placing her handbag in front of her stomach. The bag was a large Haut À Courroies and it soon became the world's most photographed handbag.
Robert Dumas, the father of Jean-Louis and the head of Hermes at the time, was so struck by the attention that the bag was getting that he renamed the version of the Haut À Courroies that Princess Grace preferred and called it the Kelly.
To date, Hermes has refused to name any other bags after real celebrities so the Kelly and the Birkin are in a category of their own. They are both variations of the same original Hermes Haut À Courroies, one reason why the bags look vaguely similar and are often mistaken for each other by the uninitiated. (There are many differences but the two big ones are that the Kelly has a single handle while the Birkin has two and that the Kelly has a strap so you can sling it across your shoulder while the Birkin never has a strap.)
There is another Hermes bag that looks quite as distinctive, the Constance. And there was a time when Jacqueline Onassis was photographed with it slung over her shoulder all the time. The press began to refer to it as the 'Jackie O' bag and though customers at Hermes stores often asked for it that way, Jean Louis stood firm. He did not rename the bag. It is still the Constance and the new generation that buys it has never even heard of the Jackie O connection.
Bags are the great gift horses of the fashion world. You and I may give them as presents on special occasions. But for most fashion companies, it is their birthday every day. They make so much money from handbags that their margins from clothes sales cannot even begin to approach those huge profits.
For instance, Louis Vuitton, the world's most profitable fashion brand, lost an estimated hundred million euros on its much hyped clothing collections last year. But it did not matter. Vuitton made so much money from the bags that the losses from everything else could be dismissed as marketing expenses. (Why does Vuitton bother to make clothes, watches, shoes, etc. that nobody buys? Well, because it sounds better to call yourself a fashion company than to admit that all you really do is mass manufacture handbags at factories around the world.)
According to the journalist Dana Thomas in her influential book Deluxe: How Luxury Lost its Lustre, nothing makes more profit for fashion brands than handbags. For most brands, Thomas wrote, "the profit is between 10 to 12 times the cost of a bag". That is to say, if a bag costs Rs. 10,000 to produce, they will sell it at Rs. 1.2 lakh. At Vuitton, writes Thomas, the margin is greater, it goes up to 13 times the cost.
So look at it this way: if a rich woman buys a bag for Rs. 1.2 lakh (and our cities are full of women whose bags cost that much), then she has paid 90% more than the real cost of the bag.
But women do it. Because fashion and snobbery demand that they do. (And many fashion victims are just plain stupid.)
Hermes is the glorious exception; one reason why its bags carry such prestige. At most companies, fashion items (so-called "Luxury goods") are mass produced in factories around the world. Dana Thomas writes about visiting a factory in Guangdong province in China where the world's top 'luxury' brands get their bags made. Very few fashion brands admit that their products are mass-produced in China but a surprisingly large number are.
Otherwise, components are split between countries. The hardware and locks come from Guangzhou, the zippers from Japan, the leather and lining from Korea and the assembly is in China. Sometimes a little finishing is done at factories in France or Italy which allows the brands to put a "Made In Italy" or a "Made In France" label on the bag.
So, if you have ever wondered why some Chinese fake designer bags are so good; it is because the originals are made in China too.
In this world of mass production (frankly, except for the use of better raw materials, there is no difference between Zara and most luxury labels as far as the manufacturing process is concerned), Hermes continues to do things the old way. (There are a few others. Chanel pays attention to quality, too.)
A decade ago or so I went to the Hermes workshop in Pantin, a grimy suburb of Paris. This is where the bags are made, all by hand. The artisans were surprisingly young (35 seemed to be the median age) and many were women. Each artisan made a Kelly or a Birkin by himself or herself, spending between to 15 to 30 (for complex orders) hours on each bag.
They made the bags inside out, which confused me at first, until, at the last stage, they flipped the bag around so that it looked like the Birkins and Kellys we see in the outside world. So strong was the emphasis on the artisanal process that each bag had a number identifying the artisan who had made it. If the bag is damaged after sale, then buyers who take it back to Hermes for repairs will be asked to be patient. The bag will go back to the artisan who made it and he will fix it himself.
Hermes will not divulge how many Birkins it makes in a year but in 2005, I got Patrick Thomas, who had succeeded Jean-Louis Dumas as boss, to admit that it was around 65,000 bags a year. No current figures are available but I doubt if the figure has gone up by very much.
Grace Kelly carrying a signature Hermes bag.
Hermes could easily sell half a million Birkins a year so there is a huge unfulfilled demand. The position taken by Jean Louis Dumas and now Pierre-Alexis, his son who is Artistic Director of Hermes, is that the company would like to keep all its customers happy. Sadly there just aren't enough trained artisans to create more bags. Mass production is out of the question so Hermes would have to hire untrained artisans to expand production. And they won't do that; they would rather forego sales than risk lowering the quality.
Birkins and Kellys can be expensive (prices start at around Rs. 6 to 7 lakh) but they are actually underpriced when you consider the demand. It is almost impossible for a first-time customer to walk into a shop and buy one. You have to wait your turn and even then, most people go home disappointed because there are not enough bags to go around.
So there is a flourishing secondary market in Birkins. If you are lucky enough to get a Birkin from Hermes, you can sell it at 20 per cent or more than the price you paid for it. And each bag grows in value. Between 1996 to 2014, each Birkin appreciated by 14.5 per cent a year, beating many stock indices.
Many people are horrified that a bag can cost so much. I am much more horrified by the women who pay 90 per cent over the cost price for mass produced China-made 'designer' rubbish only because of the logos.
Yes, Hermes is not for everyone. But isn't it great at least one house still stands for artisanship and quality in an era full of hype and fashion bullshit?
Thank you for subscribing to our daily newsletter.