Ajji movie review: An unpretentious revenge saga served with proper dose of blood and gore
Nov 25, 2017 01:23 PM IST
You're reminded of the Korean revenge dramas that weave their charm through grotesque crimes and resilient characters. Let the purest emotion take over our minds.Here's our movie review.
Ajji
Cast: Sushama Deshpande, Abhishek Banerjee, Sharvani Suryavanshi
Director: Devashish Makhija
Rating: 3/5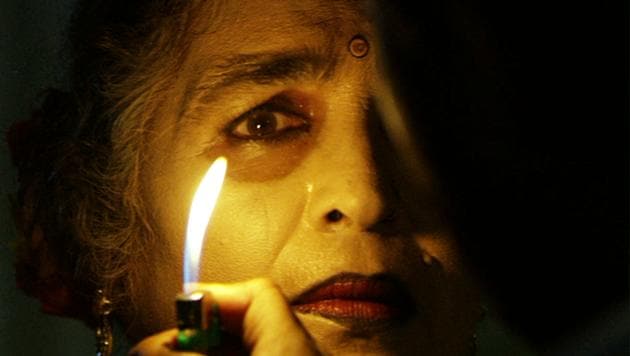 An out-of-job powerloom labourer is trying to fill-up a form when his little daughter slowly slides into his lap. The father hasn't got a chance to show his affection for the ten-year-old in a long time. He collects his thoughts and slowly pats her, breaking into a song about parents who would go to any extent to save their kids from harm. Nothing could be more heartbreaking because his small princess Manda (Sharvani Suryavanshi) has been raped a couple of days ago.
The setting is Shiv Tekdi, a locality of migrants who are not entitled to anything. They are mere outsiders, poor and cracking under financial and emotional stress. Ajji (grandmother) couldn't bear the pain of being at the bottom of the social pyramid. She knows how the power structure works and has seen the investigation officer switch sides, but she also understands the futility of being vulnerable and weak. Ajji's (Sushama Deshpande) eyes have seen the world and she is not ready to take things lying down.
Her opponent, Dhavle (Abhishek Banerjee), is a sex maniac and power-drunk son of the local MLA. He represents values that are blots on a democratic system. Aware of corruption and systematic loopholes, Dhavle is loathsome to say the least. One may question director Devashish Makhija's choice of villain. This powerful, brutal son of a political strongman walks around alone but reigns terror. A completely dark character with absolute disregard for law, he is probably more dramatic than somebody similar can actually be in real life.
But, yes, such criminals are the by-products of a system that infests confidence in them. They are untouchable. When he kicks open a bootlegger's house in the middle of the night, he is fully aware of his position. The marginalised can't stand up to him, the system won't let them.
A kid, like hundreds of other deprived kids, has been sexually assaulted but this might be just another case for the civil society. It happens. She shouldn't have gone to the red light area. But what would you do when she points to her bleeding parts and asks, "Is this how it starts for every girl?"
Makhija, whose short film Tandav with Manoj Bajpayee showed he can handle complex emotions, hasn't gone completely art-house despite bringing up the topic of injustice and inequality. He knows who controls the resources and who is calling the shots.
It's mostly about claustrophobic spaces. Closed, dingy rooms — with no space to even hide wounds — hammer how the urban divide is becoming more disturbing. Though the film has a generous splattering of the typical tools used in such stories — barking dogs, yellow-tinged frames, under construction buildings, flickering tubelights — the execution is thoughtful. They create a situation that streamlines your thought, and you know all of this can culminate only in revenge. A cold blooded one.
Watch: Facebook Live discussion on Ajji, Julie 2 and Kadvi Hawa
Even guilt can creep in. Don't we all contribute in the making of such monsters? It's unsettling to see small Manda getting uneasy during her sleep. Ajji's arthritis can never be more painful than this feeling of being helpless. I willingly avoided the director's smart ploy to make it more blood-thirsty. The weaker Ajji gets, the more satisfying will the revenge be.
Abhishek Banerjee's Dhavle is a textbook villain. He looks into the camera a la Langda Tyagi (Omkara) or Duki Bana (Gulaal), and slurs his way through abandoned streets. Probably he doesn't have a choice to go deeper into the skin of a rapist. Imagine how impactful it could have been if he was actually briefed to be more usual, more realistic.
Then there is Sushama Deshpande's terrific body language. A theatre veteran, she seamlessly moves beyond dialogues. Ajji has given up on the system and can make you do the same. Thank god, we sit face to face with her for only 103-minutes. Who knows what would you do if stayed longer with her?
The mood is right, the tone is right, the pace is right. The film doesn't delve in the grey zone. There are two sides and you need to pick one. You're reminded of the Korean revenge dramas that weave their charm through grotesque crimes and resilient characters. You want this disgust to end with abnormal violence. Let the purest emotion take over our minds.
Interact with Rohit Vats at Twitter/@nawabjha
ott:10:ht-entertainment_listing-desktop