Bioscopewala movie review: A sparkling Danny Denzongpa and the power of cinema
Updated on May 25, 2018 06:57 PM IST
Bioscopewala movie review: The makers have added political, social and emotional layers to Rabindranath Tagore's Kabuliwala and turned Danny Denzongpa's character into a passionate rebel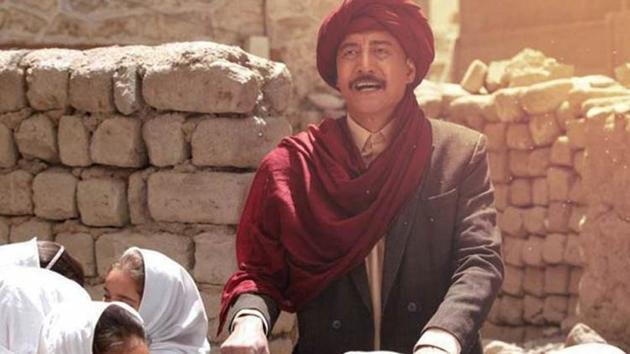 Hindustan Times |
, New Delhi
Sweta Kaushal
Bioscopewala
Director: Deb Medhekar
Cast: Danny Denzongpa, Adil Hussain,Geetanjali Thapa, Brijendra Kala
Rating: 4/5
A life defined by loneliness and the scarring belief that your own father doesn't love you, only to realize – eventually – that love runs deeper than its obvious display. The various shades of affection and complexities of human relationship is the world that Deb Medhekar's endearing film, Bioscopewala, inhabits.
Based on the timeless tale Kabuliwala by Rabindranath Tagore, Bioscopewala features Danny Denzongpa in the lead role while Geetanjali Thapa, Brijendra Kala and Adil Hussain essay pivotal parts in the story. Bioscopewala deviates from the original story but surprisingly, none of it feels disruptive. Instead, the film is adapted effortlessly to the times that we live in.
In Tagore's original story, an Afghan man selling dry fruits in Kolkata forms a bond with a young girl because she reminds him of his daughter. Deb adds layers to the story as he swaps the dry fruits for a bioscope and fills his Kabuliwala with undying passion for rebellion, cinema and story-telling.
The film opens with the death of Robi Basu (Adil Hussain) who was on his way to Afghanistan. His daughter Minnie (Geetanjali) is trying to come to terms with the sudden loss when she meets an old Alzheimer's patient, Rehmat Khan (Danny) taking shelter in her own house. As she tries to shake off the responsibility, she realises she has a long lost connection with the man. In fact, she remembers that she became a documentary filmmaker thanks to the passion and love for cinema Rehmat instilled in her.
The old Afghan fled from his own country in the hope that it would save his wife and five-year-old daughter. Unlike Tagore's Kabuliwala, we know more of Rehmat's back story as well – he was a rebel in Afghanistan who protested Taliban's oppression by showing films, which was considered a crime by the regime. His home-based cinema would regale people with old Bollywood movies of Raj Kapoor and Amitabh Bachchan before the Taliban burnt it down and condemned him for spreading the sin of cinema. He continued showing films through a bioscope until he was told his daughter might be killed if he stayed on in Afghanistan.
His journey to India via Kashmir shines a light on Rehmat's benevolent and brave self. In Kolkata, Rehmat meets Minnie (Geetanjali) and gets close to her as she reminds him of his own daughter.
Their relationship goes beyond the mere story of father-daughter; it celebrates humanity across cultural boundaries just as cinema is presented as a means of rebellion. How violence -- in the name of religion or a nation – destroys humans and humanity is showcased through touching visuals.
What adds to the entire experience of watching this 1.40 hour long film is the brilliant performances. Be it Danny's stunning portrayal of the titular character, Adil's ever efficient father, Brijendra's humble caretaker or Geetanjali's slightly dramatic Minnie, the actors bring to life their characters.
With the script focussing on his character, Danny is certainly the one that shines. One can't help but wonder why Bollywood mainly offered him roles as villains for his range is so vast? We have seen him as Kancha Cheena in Agneepath as well as Khuda Baksh of Khuda Gawah but from now on, he is the Bioscopewala to me.
Follow @htshowbiz for more
ott:10:ht-entertainment_listing-desktop