Mirzya review: How Bollywood killed a folk tale
Updated on Oct 07, 2016 05:02 PM IST
Rakeysh Omprakash Mehra's version of the Punjabi folk tale of Mirza-Sahiban aims to be anything but real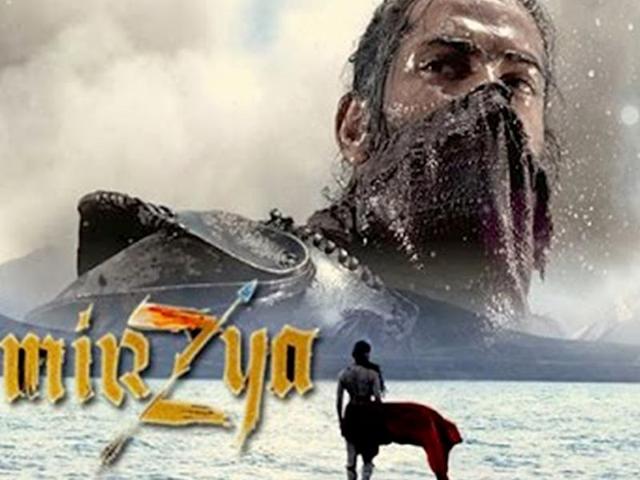 MIRZYA
Direction: Rakeysh Omprakash Mehra
Actors: Harshvardhan Kapoor, Saiyami Kher, Art Malik, Anuj Choudhry
Rating: 1.5/5
In the valleys of Ladakh, a strange game on horseback, of arrows and CGI clay pigeons, is taking place. The landscape is shot through a filter, people are in dramatic lighting, riding horses, splashing water, shooting arrows in glorious slow-motion. It's visually stunning. And remarkably unreal.
Authenticity is a frequent casualty in Bollywood retellings. And Rakeysh Omprakash Mehra's version of the Punjabi folk tale of Mirza-Sahiban aims to be anything but real. The central complexity of the original tale is that Mirza and Sahibaan's parents were brought up by the same woman. It's critical to why their love defies social norms.
Mehra tells two versions: one, a contemporary story set in Rajasthan. The other, the one with most of the CGI and slow-mo, in a fictional past where the men have hipster buzz cuts, and the women wear leather bodices, winged eyeliner, and layers of foundation. It's less Mirza Sahiban, more 300, or the Dothraki clan from Game of Thrones.
Read: Gulzar is eternal: Rakeysh Omprakash Mehra on his Mirzya writer
You could argue that folklore is the stuff of legends, and justify the visual extravagance. But Mehra does away with the crucial angle of related protagonists. And that rips the heart out of the story.
Instead, the principal story is about two childhood sweethearts. In a little segment, of a passionate young friendship in Jodhpur, Mehra seems the most at home. The narrow lanes, the low-roof houses remind you of Delhi 6, where Mehra turned Old Dilli into a character. Unfortunately, that's the shortest segment, thwarted violently by a murder that lacks sufficient cinematic motivation.
Such is the focus on effect that even a murder scene is made to look pretty. A moment that perhaps called for tenderness, or silence, to let the audience absorb the shock, is drowned out in thumping music.
Read: Gulzar is eternal: Rakeysh Omprakash Mehra on his Mirzya writer
The music, in fact, breaks out in loud bursts every 10 minutes. You get what he's going for – an ode to Rajasthani folk theatre, where words, actions and music come together (he even has a narrator). In one scene, with bodies lying about, slowly coming to life, he even references puppetry. It's clever.
But it's clever at the cost of storytelling. The theatre is overwrought, breaking flow rather than aiding the narrative.
Pieced together, it's more a Shakespearean tragedy than the Mirza-Sahibaan tale. The police commissioner's daughter, Suchitra (Saiyami Kher), is set to marry Prince Karan (Anuj Choudhary). It's a marriage of the rich, and the two even seem to be in love. Until Suchitra finds her childhood love, now called Aadil (Harshvardhan Kapoor), a horse trainer in the royal stable.
Kapoor, the star son making his debut, gets his hero frames: riding a horse in slow-mo; camera looking up to enhance screen presence. But in critical scenes, the debutant leads falter. What are to be passionate scenes of love and reunion are at best insipid, at worst, comical.
The film feels real, ironically, only in parts that are kept simple. The class divide between the lovers is sharply drawn – the absolute poor (Aadil, school dropout, brought up by blacksmiths), and the absolute rich (the royalty). It's the same with the young friendship in small-town India, the kids in uniform hanging about Mehrangarh Fort.
But there's too little of it. Instead, it's a film directed with a heavy hand, like a movie version of a Vogue fashion shoot: stunning frames, good-looking people, and drama, drama, drama.
It's a pity because the story had such potential: an eternal tale set in modern India, perhaps even a take on honour killing, still rampant in Rajasthan.
Instead, it's yet another love story. Yet another folk tale killed in Bollywood adaptation.
ott:10:ht-entertainment_listing-desktop
Personalise your news feed. Follow trending topics