Veerey Ki Wedding movie review: Pulkit Samrat, Kriti Kharbanda's archaic and tiresome affair
Updated on Mar 03, 2018 04:57 PM IST
The film boasts of good production values and is colour and glamour in every frame but mind-numbing nonetheless.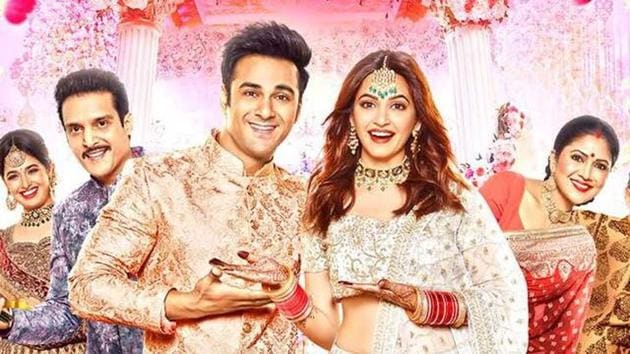 Indo Asian News Service, New Delhi |
Indo Asian News Service
Veerey ki Wedding
Cast: Pulkit Samrat, Kriti Kharbanda, Jimmy Shergill, Satish Kaushik
Director: Ashu Trikha
Rating:1/5
Director Ashu Trikha's Veerey Ki Wedding, is purportedly a frothy romcom which severely challenges your intelligence quotient.
Veer Arora (Pulkit Samrat) is the son of a rich businessman Prabhu Arora (Mickey Makhija) and is known to be the quintessential humanitarian with muscle power always ready to help. Not serious about life, his parents are keen that he settles down.
Omnipresent in Delhi trying to save damsels from eve-teasers, preventing bank robberies and donating his father's hard-earned money to the poor and the needy, Veer is just a phone call away when anyone is in trouble.
In love with Geet Bhalla (Kriti Kharbanda), Veer is keen to marry her but her father Gopi Bhalla (Satish Kaushik) disapproves of the match as he is a firm believer of Ahimsa or non-violence and thinks Veer is a hooligan who indulges in violence.
How Veer proves his goodness to his would-be father-in-law and wins him over thus getting his daughter's hand, forms the crux of this two hour plus film.
The screenplay by Dilip Shukla and the treatment by Director Ashu Trikha, is mindless and hopelessly outdated. The writing is amateurish and the humour absurd and trite. Each scene is senseless and insular with no bearing on the next. The film appears to be a patchwork of several poorly directed scenes sewn together.
The plot is wafer-thin and the poor treatment does not help. The inflated comedy, hackneyed dialogues, caricature characters, make for tedious viewing. Vijay Raaz's voice as the sutradhar does not salvage the film either.
Pulkit Samrat as always, portrays himself as an extension of Salman Khan - right from his dialogue delivery to his action scenes, albeit minus the Khan charisma. He appears comfortable displaying his brawn and swag but emotes poorly, making no impact at all.
Kriti Kharbanda as Geet is effervescent and pretty, but sadly is limited by a badly written script. She delivers what is expected of her.
Jimmy Shergill is miscast as a young and suave Balli, Veer's older cousin who is heartbroken and perpetually unlucky in love. He effortlessly walks through most scenes being a good actor, but is thoroughly wasted.
Satish Kaushik as Geet's possessive father and the owner of Bhalla sweets, is his usual loud self, oozing Punjabiness in every breath, including his rustic dialogue delivery and unpolished mannerisms. But again the fault lies with the poorly etched characters.
Abhishek Duhan as the potential suitor for Geet, displays confidence and talent in several scenes and stands out among other actors. Yuvika Chaudhary as police inspector Rani Chaudhry in her inane Haryanvi accent is an eyesore.
The rest of the ensemble cast gets a fair amount of screen time but fail to leave an impression as the plot is a mindless riot. The music replete with Punjabi flavours, does not make you hum a single number and the songs seem forced. The film boasts of good production values and is colour and glamour in every frame but mind-numbing nonetheless.
Overall, Veerey ki Wedding is a shaadi you might not like to attend.
ott:10:ht-entertainment_listing-desktop
Personalise your news feed. Follow trending topics