Welcome To New York movie review: Diljit Dosanjh, Sonakshi Sinha's extended IIFA promo is a never-ending pain
Feb 23, 2018 06:23 PM IST
Welcome To New York is not worth wasting your time, money, patience and intelligence. Here's our movie review.
Welcome To New York
Cast: Diljit Dosanjh, Sonakshi Sinha, Karan Johar
Director: Chakri Toleti
Rating: 0.5/5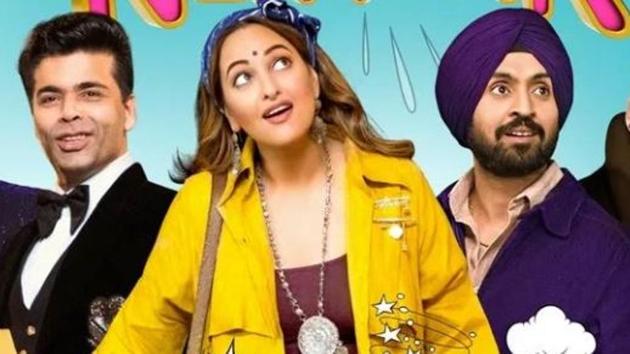 After watching the lacklustre trailer of Welcome to New York, you may have wanted to ask the director why he made this film. And now, having watched the film, I will repeat my question: Why?
Stay tuned with breaking news on HT Channel on Facebook. Join Now
Click to join.
Punjabi lad Teji Sandhu (Diljit Dosanjh), who has a fixation for mirrors, and Gujarati fashion designer Jeenal Patel (Sonakshi Sinha), with a dream of dressing Salman Khan one day, are two contest winners who are invited to be a part of the IIFA award show in New York. However, there is more to it than what meets the eyes, or at least the director Chakri Toleti thinks so!
Diljit and Sonakshi attempt to sound sweet-cute in the beginning, but their jokes fail to lighten up the mood already dampened by the most absurd opening montage in recent times. From veterans like Anil Kapoor to newcomers like Taapsee Pannu, we see them all laughing in block frames with emojis and smilies around them. This continues till you also start laughing like Dr Asthana of Munnabhai MBBS.
The ordeal is far from over. Enter Karan Johar and his attempts at cracking innuendo-laden sex jokes. They're not funny anymore, Karan. Don't be surprised if you feel you are back in the early 2000s with Shah Rukh Khan, Saif Ali Khan and unending Kanta Ben jokes.
But you know what's funny in Welcome to New York? In the film, the promoters of IIFA want to give the award show a new look and feel, and that's why they decided to do what other award shows were doing 10 years ago – crack colourless homophobic jokes.
You can't escape the mandatory 'Daant tod ke de doongi haath me, kuch din toh guzaro Gujarat me' kind of dialogues either. Come on, show some patience, for now you will be treated to Karan Johar jokes spouted by Karan Johar. Of course, there is the same lame Bombay Velvet one. No wait, he does crack a new one. He says, "Ye log mere piche pade hain and not the way I want." You get the picture.
What's worse than one Karan Johar though? Two Karan Johars. The other one, Arjun, is a gangster, more like Karan's alter ego. He tortures his victims by showing Kuch Kuch Hota Hai and Kabhi Khushi Kabhie Gham. Innovative, I must say.
Because Riteish Deshmukh is also there, so back-slapping and the mention of Ek Villain are probably part of the contract. Why should Johar have all the fun? If everybody from Rana Daggubati to Sushant Singh Rajput to Salman Khan are having fun at our expense then Riteish deserves his bit too. This is what happens:
Karan: I am a villain.
Riteish: Kam se kam mujhe ek villain toh rehne do (Let me remain a villain at least).
And then he clarifies, "Ek villain! Me?"
This is neither self-deprecating, nor humour. It is a 123-minute – excruciating, may we say -- tribute to careers of everyone they've managed to rope in for the film. Since Sonakshi is the film's lead and Salman Khan comes in for a cameo, a Dabangg gag just has to be there. Sinha and Khan enact their Thappad scene and then dance like they are part of an actual award show promo and not a film. I don't want to spoil the fun (!) for you, but Arbaaz Khan is also a part of it. It's Dabangg after all.
After a terrific debut in Udta Punjab, Diljit Dosanjh seems to be doing what he has already done in Punjabi films – playing a well intentioned bumpkin. Sonakshi Sinha matches him step for step. We see no sheen, not even a twinkle.
Welcome To New York is totally lost in New York, and looks nothing more than an extended IIFA trailer. It's not worth wasting your time, money, patience and intelligence on this mind-numbing promotional video.
Interact with Rohit Vats at Twitter/@nawabjha