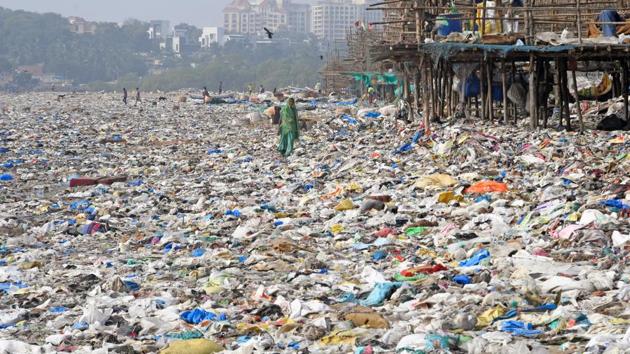 50,000 tonnes plastic in mangroves of Mumbai Metropolitan Region
State mangrove cell has removed most trash from sites in Dahisar, Gorai, Versova, Bandra, Bhandup, Airoli, Vashi, Sewri and Ghatkopar
PUBLISHED ON JUN 05, 2018 12:53 AM IST
Mangrove forests in the Mumbai Metropolitan Region (MMR) are littered with at least 50,000 tonnes of plastic waste. Since the beginning of this year alone, the mangrove cell of the state forest department has removed more than 9,000 tonnes of trash, mostly plastic waste, from nine mangrove sites – Dahisar, Gorai, Versova, Bandra, Bhandup, Airoli, Vashi, Sewri and Ghatkopar.
The clean-up will be extended to five more locations – Colaba, Vikhroli, Kandivli, Borivli and Trombay – after the monsoon.
"Acting as the interface between land and sea, the mangrove ecosystem is the first natural resource exposed to maximum plastic coming from creeks, rivers and the sea," said N Vasudevan, additional principal chief conservator of forest, state mangrove cell.
"While assessing the quantum of trash from 14 locations across Mumbai, we found that a minimum of 3,500 tonnes of plastic waste is strewn at these areas at any given point in time. It means approximately 50,000 tonnes across all mangrove patches in Mumbai."
Maximum plastic trash was found in Versova (40% of the total collected), followed by Dahisar (20%).
"Removal of plastic trash from mangroves is important from an ecological point of view, as the breathing roots of the mangroves need to be free from trash. This will allow better nourishment of these trees and control flooding during monsoon," said Vasudevan.
Officials said apart from plastic, rubber, clothes, shoes and several other types of trash were all accumulated at mangrove areas owing to the waste being carried out by storm water drains.
Mangroves, which have stilt roots, trap the trash.
"While the recent plastic ban, implemented by the state government, will have an impact towards reducing this menace, there is a need to hold private companies producing non-biodegradable products accountable and responsible for collecting, segregating and recycling plastic waste after use," said Vasudevan.
"The other aspect is to sensitise slums and housing societies to become zero waste through treatment at source."
The state mangrove cell will soon be deploying five divers into the deep sea to remove plastic waste off the Mumbai coast. Last week, two divers already removed 30kg trash off the Versova coast.
"These drivers have been trained by us in Sindhudurg and they are responsible for removing 2 lakh square metres of nets from the sea floor," said Vasudevan.
"Now, they have been trained and provided proper equipment to remove plastic trash along the Mumbai coast."
Mangroves along the Versova beach have 380g of plastic and 560g of trash, including plastic, spread across every square metre, found five PhD scholars from the ICAR - Central Institute of Fisheries Education, Mumbai (CIFE).
The five scientists – G Kantharajan, V Santhana Kumar, U Sivagurunathan, Dr Kundan Kumar and Dr SP Shukla – presented the paper at the National Conference on Marine Debris – COMAD2018 held in Kochi.
Based on field surveys carried out by them in March across three locations – open shore (100m area), creek mouth (75m), and creek interior (200m), a total of 13.55kg trash was identified with 13.29 pieces of trash per square metre and 560g per square metre.
"The findings of this study are a preliminary assessment of marine debris along Versova creek and they were presented during a recent science conference. The estimates for trash, especially plastic, can be much more in other creek areas of Mumbai, and that calls for a much larger study," said Kantharajan, lead author of the research.
"Debris contamination is a serious threat to the sustainable use of the marine environment, and is a largely neglected issue in the global and Indian context."
He said the assessment also found that maximum plastic trash was observed towards the open shore, with plastic bags accounting for 77% of the trash, mainly owing to untreated domestic waste being directly dumped into the creek areas.
Close