After Eman's death, sister thanks Abu Dhabi doctors for 'doing their best'
Updated on Sep 26, 2017 12:16 PM IST
In April, in a video shared on social media, Shaimaa had called surgeon Dr Muffazal Lakdawala, who was treating Eman's obesity, and Saifee Hospital 'liars'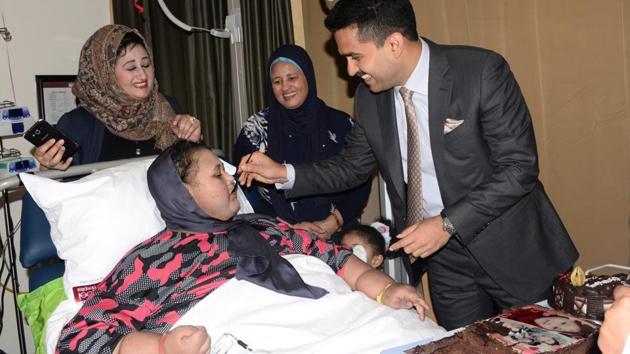 Hindustan Times |
, Mumbai
Sadaguru Pandit
On Monday, when Eman Ahmed, once the world's heaviest woman, died in Abu Dhabi, her sister Shaimaa Selim was composed and showed none of the anger that she had for the Mumbai doctors who were helping Eman lose weight.
After accusing the doctors at Mumbai's Saifee Hospital, where Eman, who had turned 37 earlier this month, was admitted in February, of making false claims about her weight loss, Selim, who has been with her sister throughout her journey to Mumbai and then to Abu Dhabi, was mellow as she thanked doctors.
While Shaimaa didn't respond to the calls and messages made by HT, a video message, shared on social media, showed her sitting in a brightly lit room, saying that Eman's condition had improved after coming to Burjeel Hospital, Abu Dhabi.
On the request of a male voice that asked her to start speaking, Shaimaa said, "I want to thank Abu Dhabi, VPS, Burjeel Hospital, Dr Shamsheer (Vayalil) for everything. He did all best for my sister. I saw special machines and good doctors here. We couldn't do anything but to pray for her," said Selim before abruptly ending the video message.
In April, in a video shared on social media, Shaimaa had called surgeon Dr Muffazal Lakdawala, who was treating Eman's obesity, and the Saifee Hospital 'liars', and claimed they had 'put Eman on massive medication to stop her brain activity.'
Officials had said this was a tactic by the family to delay Eman's discharge because no medical facility in Egypt is willing to provide free medical services.
Within a months period, Eman was shifted out if the Mumbai to the Abu Dhabi hospital which had approached the family in the past to treat her.
Eman was brought to Mumbai from her hometown Alexandria, Egypt, in a freighter plane, and was kept in a custom-made room at Saifee Hospital. Officials from Saifee Hospital said they have spent more than Rs2 crore on Eman's transportation, treatment and surgery, and had separately collected more money through donations around the world.
To refute the claims of her sister, doctors from Saifee Hospital shared a picture of Eman watching television, a video, made by Shaimaa, has left everybody in a 'state of shock.' "She [Eman[ is very sick. She suffered thrombosis 10 days ago. It's the second time after she got here," Shaimaa said in the video. She further alleged that Eman was being fed through a feeding tube because of which she is unable to talk or breathe.
"When we demanded a CT scan, they said there is no open machine available in Mumbai. It's not true," said Shaimaa. Doctors earlier had said they are waiting for Eman's weight to reduce further so can fit in a CT scan machine.
"My problem is the hospital isn't equipped to handle such a (severe) case. These people (only) care about show and propaganda and to appear in the media," said Shaimaa in the video.
She further alleged Eman's weight loss is also a lie and she has not lost 240kg or 260kg.
"Eman is critical for the past one-and-a-half months and she has been put on massive medication to stop brain activity. Her face and hand are blue," said Shaimaa.
She claimed on April 14, when the video was made at 10.30am, no staff or doctors had come to check on Eman and she was 'really helpless'. "May God forgive them for what they have done. Pray for Eman to leave this place safely and also to cure her," said Shaimaa in the video.
Doctors from Burjeel Hospital, after four months of treatment, announced Eman's demise on Monday morning. The cause of death was said to be multiple organs failure, followed by cardiac arrest.