Amid sparse '90s crowd, popstars from Boyzone and Westlife evoke nostalgia
Keith Duffy and Brian McFadden — the '90s heartthrobs who once had girls screaming and fainting as they touched down at airports — came together as Boyzlife for a concert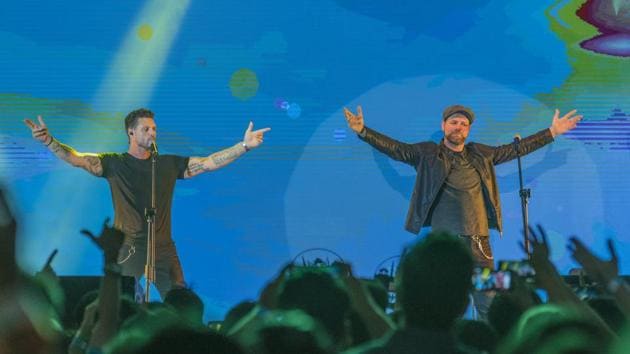 Published on May 20, 2018 12:56 AM IST
When the two former popstars began to sing, it was clearly all about nostalgia.
Keith Duffy and Brian McFadden — the '90s heartthrobs who once had girls screaming and fainting as they touched down at airports — came together as Boyzlife for a 90-minute concert at a mall in Kurla on Saturday.
Duffy, formerly of Boyzone, and McFadden of Westlife — now in their early 40s and late 30s respectively — began their performance with a song titled 'I have a picture of you in my mind'.
The audience was full of '90s kids now in their 30s, and that first song seemed designed to evoke sepia-toned memories of first posters bought at the Fort pavement, and money carefully saved up for cassettes that cost Rs110 each.
"I grew up listening to Boyzone and Westlife. Their songs have always been on my playlist. I have also been following Boyzlife online. So to be here for their first performance in India is quite a huge deal. I wouldn't have missed it for anything," said Presley George, 32, who came here from Mahim.
Even the largely off-key opening act by Mumbai singer Rooshabh Doshi didn't dampen the mood; neither did the second opening gig, by Paratra, whose fusion music was thankfully in tune.
It was bittersweet, though, to see the former boyband members fail to fill an indoor courtyard in Mumbai — only about 1,000 people were present in a space with a capacity of about 3,000. Those that were there made up for the empty spaces with sheer enthusiasm.
As the men sang what could now be called golden oldies — 'Baby can I hold you tonight', 'Love me for a reason', 'If I let you go' — and the audience swayed and sang along, some were clearly moved.
"I have tears in my eyes," added Rusha Shah, 34, who was there with a gang of friends from Andheri . "All school buddies… We can still sing all the songs with the correct lyrics. I'm going crazy uploading Insta stories," she said.
It was a little strange to listen to a Boyzone or Westlife song in a mall in Kurla, said Kritika Desai, 27, who came from Colaba. "But I'm enjoying myself too much to complain."
Topics
Close Story