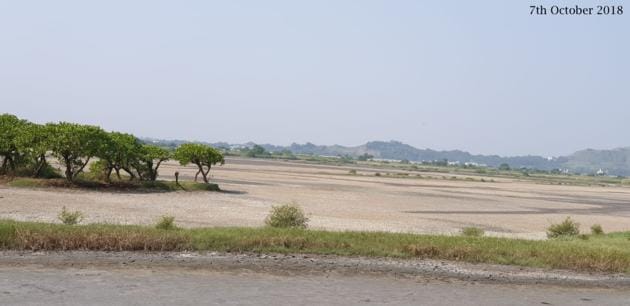 Clear the gateway to green: Activist to move court over Panje wetlands in Navi Mumbai
On September 28, Navi Mumbai residents and environmentalists filed a complaint with the state, alleging City and Industrial Development Corporation (Cidco) was shutting the high tide water ingress by blocking 76 gates at Panje
PUBLISHED ON OCT 09, 2018 12:23 AM IST
Taking note of how the blocking of gates at Panje wetlands at Uran in Navi Mumbai is causing "a loss to the ecosystem that is home to 1.4 lakh birds during winter", environmentalist Stalin D, a member of the Bombay high court-appointed wetland grievance committee, plans to soon file a contempt petition to stop the destruction.
On September 28, Navi Mumbai residents and environmentalists filed a complaint with the state, alleging City and Industrial Development Corporation (Cidco) was shutting the high tide water ingress by blocking 76 gates at Panje. On October 6, Cidco allowed tidal water ingress to the Panje wetlands by opening 10 of the 76 outlets. However, environmentalists have produced images (refer, before and recent ones) to show how it is not enough to guarantee adequate water flow to the wetland site.
"It is atrocious to see Cidco mock the environment laws, as they have shown no inclination to comply with HC orders. They continue with the claim that there is not wetland in Navi Mumbai. This is a deliberate murder of wetlands. It is high time Cidco stopped, and the courts need to intervene," said Stalin D, director, NGO Vanashakti.
In 2014, the HC banned reclamation and construction on wetlands after Vanashakti filed a petition to protect them. In September last year, the union environment ministry notified new Wetland (Conservation and Management) Rules 2017, replacing the 2010 version. The new rules disallow industrial development, garbage dumping or discharge of wastewater at wetland sites across the country.
Environmentalist and documentary film-maker Aishwarya Sridhar, who was one of the complainants, visited Panje on Monday. "It looks like a nexus between state agencies and developers for development purposes," she said.
The wetland grievance and redressal committee, appointed by the state in 2016 based on HC directions, said the committee was confused. "While local residents are seeking flood prevention, environmentalists are fighting to allow high tide water ingress and protection of mangroves," said Jagdish Patil, Konkan commissioner and chairman of the HC committee. "I have spoken to Cidco and they said they will comply with the orders of the competent authority. We have scheduled a meeting of the committee on Thursday, where all parties will be present, and a decision will be taken."
"I visited the site on Monday and found that a few more gates had been opened apart from the 10 by Cidco," said JR Gowda, member secretary of the HC-appointed committee. "High tide water is entering the wetland as of now. We will do everything in our power to safeguard this area."
Meanwhile, Cidco said no other gates had been opened so far. "Local politics between three different villages is to blame for the loss of the wetland," said Pramod Patil nodal officer, environment and forest, Cidco.
"While Panje and Dongri are on an elevated spot, Funde is low-lying. Villagers from Funde are asking us to shut the high tide water for flooding concerns, but Panje and Dongri residents say they are losing fish catch if the high tide water is shut. If we are directed to open more gates, it will be done immediately."
Close